A Man Called Ove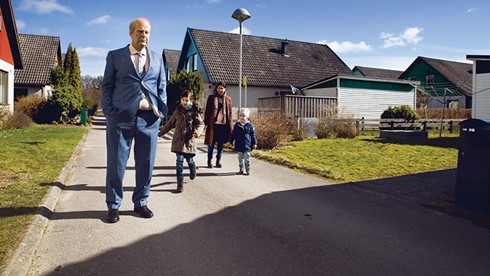 June 21, 2016
SIFF Cinema Uptown | Best of SIFF 2016
Winner: SIFF 2016 Golden Space Needle Award, Best Actor (Rolf Lassgård)
Based on the bestselling novel, Sweden's biggest hit of the year is an endearing, crowd-pleasing, and wonderfully curmudgeonly comedy about a grumpy old man who finds his caustic view of the world put to the test when a new family moves in next door.
Adapted from the bestselling novel by Fredrik Backman, A Man Called Ove is already a runaway success in its native Sweden, the fifth most popular locally made feature in the country's history. Now it's time for the United States to fall for the titular curmudgeon. Ove (Rolf Lassgård, After the Wedding) is a 59-year-old grump who has gone through his small, suburban life correcting other people's mistakes, minor shortcomings that seem blasphemous to the fastidious, routine-obsessed man. His wife has recently passed away, and Ove has vowed to take his own life to join her—if only his suicide attempts weren't so roundly (and comically) obstructed. Enter Parvaneh (Bahar Pars) and Patrik (Tobias Almborg), the new couple next door who accidentally destroy Ove's mailbox and invite his special brand of ire. But what starts as an embattled relationship slowly changes, and as the three of them grow closer, an unexpected friendship emerges. Director Hannes Holm, famous for adapting the long-running children's book series "Sune" for the big screen, again finds the beating heart of his source material, especially in the extended flashback sequences that inform Ove's current state of being. By deftly handling the novel's tone without resorting to unearned schmaltz, Holm helps A Man Called Ove become a genuine crowd-pleaser.

Director Biography
Hannes Holm was born in Lidingö, Sweden, in 1962. He has had a variety of roles in the industry as both an actor and writer for television programs in Sweden. Before A Man Called Ove, he wrote and directed the critically acclaimed Behind Blue Skies in 2010.
Original Language Title:

En man som heter Ove

Director:

Hannes Holm

Principal Cast:

Rolf Lassgård, Bahar Pars, Filip Berg, Ida Engvoll

Country:

Sweden, Norway

Year:

2015

Running Time:

116 minutes

Awards:

Gulbagge Awards 2016 (Best Actor, Cinema Audience, Best Make Up)

Filmography:

The Anderssons Rock the Mountains (2014); Himlen är oskyldigt blå (2014); The Anderssons Hit the Road (2013); The Anderssons in Greece (2012); Wonderful And Loved By Everyone (2007); Every Other Week (2006); The Class Reunion (2002); Things Never End Up Like You've Planned (2000); Adam & Eva (1997); One in a Million (1995); Interrail (1983)

Language:

Swedish

Has Subtitles:

Yes

US Distributor:

Music Box Films