Short Films, Big Ideas: The Science of Science Fiction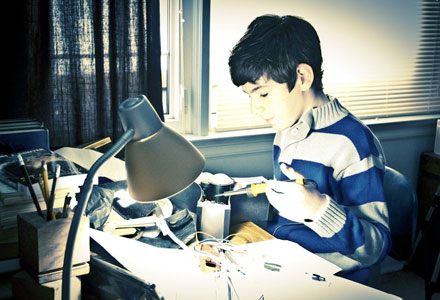 Jake VanderPlas, an Astronomy and Astrophysics post-doctorate fellow at University of Washington and frequent Science Café speaker, introduces two audience favorite short films, discussing the intricacies and possibility of time travel.
Small Time
Winner of the 2013 Audience Favorite award! A cocky, young student discovers time travel, leading to a rivalry with his professor.
Director Ged Murray | Ireland | 12 min
Time Freak
In this Academy Award® nominated short, a neurotic inventor creates a time machine only to get lost traveling around yesterday.
Director Andrew Bowler | US | 10 min
---
Forensic Pathologist Dr. Carl Wigren, proprietor of Wigren Forensic (which provides Autopsies and Medicolegal Services in Washington State), delves into the science and mysteries revealed by cadavers via a trio of short films with death as the main theme.
Chorebot
A robot servant and a dog spend their days, not noticing when their human owner mysteriously disappears.
Director: Greg Omelchuck 
| USA | 9 min
Oliver Bump's Birthday
On the eve of his 13th birthday, child prodigy Oliver Bump is about to die -- unless his mysterious plan can save him from his impending demise.
Director: Jordan Canning | Canada | 16 min
Project Panacea
A young scientist has discovered a revolutionary disease treatment alone in his basement.
Director: Daniel Jourdan | Canada | 8 min
---
A presentation of the Seattle Science Festival.
Hosted by EMP Museum, Pacific Science Center, and SIFF.
A program of Science on Screen, an initiative of the Coolidge Corner Theater with major support from the Alfred P. Sloan Foundation.
Director:

Various

Running Time:

120 Minutes