Lotte Reiniger Shorts with Miles and Karina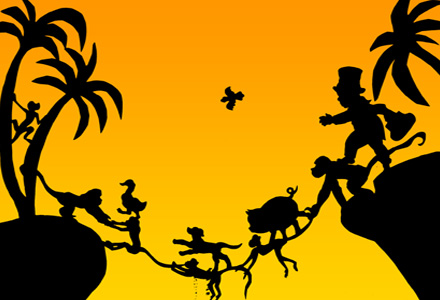 March 16, 2014
Live, original score performed by Miles and Karina
Musical duo Miles and Karina return with their new original score for a selection of classic shorts from German animator Lotte Reiniger, whose mesmerizing silhouette techniques are a hallmark of early animation.
Originally commissioned by Northwest Film Forum for this year's Children's Film Festival Seattle, this special encore performance features Miles and Karina performing live with the first film adaptation of the tale of Doktor Dolittle (1928), a haunting version of Sleeping Beauty (1922), and two clever promotional shorts made for Nivea Creme and the British postal service.
Dave Keenan and Nova Devonie have been performing together as Miles and Karina since 1991, and are known around-the-world for their original score to Lotte Reiniger's silent feature The Adventures of Prince Achmed, also commissioned by Northwest Film Forum. They most recently joined us at SIFF Cinema for "The Hitchcock 9", performing their original live soundtracks for two rare Alfred Hitchcock silents: Easy Virtue and The Pleasure Garden.
---
Special presentation
$11 | $6 Members | $10 Seniors & Youth
SIFF Passes and Vouchers are valid for this program
Director:

Lotte Reiniger

Country:

Germany

Year:

1927

Running Time:

50 Minutes (Approx)

Music:

Miles and Karina

Format:

HD Video