August : Osage County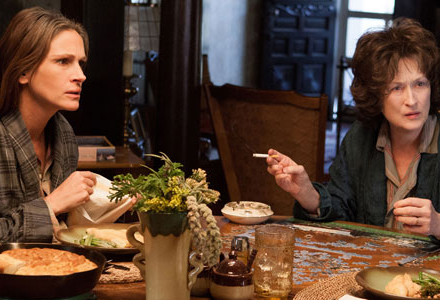 January 17 - 23, 2014
Ends Thurs Jan 23! 2014 Oscar nominees Meryl Streep and Julia Roberts lead an A-list cast in this dark, hilarious, and deeply touching drama about a dysfunctional family.
In the wake of a sudden tragedy, the Weston family gathers at their Oklahoma homestead for the first time in years. The pill-popping family matriarch Violet (Streep) wields a wicked tongue filled with criticism for everyone around her, especially her three adult daughters Barbara (Roberts), Ivy (Julianne Nicholson), and Karen (Juliette Lewis). Other members of the family, close and extended, get drawn into Violet's tornado of bitterness and scorn, and soon long buried secrets and resentments come bubbling to the surface.
Director John Wells skillfully adapts Tracy Letts' acclaimed stage play (Letts also co-writes the script), and has gathered a cast that is second to none. Spearheaded by fierce performances from Streep and Roberts, the supporting cast includes such legendary actors as Chris Cooper, Sam Shepard, Margo Martindale, Ewan McGregor, Benedict Cumberbatch, and Dermot Mulroney.
Director:

John Wells

Principal Cast:

Meryl Street, Julia Roberts, Ewan McGregor, Chris Cooper, Abigail Breslin, Benedict Cumberbatch, Juliette Lewis, Margo Martindale, Dermot Mulroney, Julianne Nicholson, Sam Shepard, Misty Upham

Country:

USA

Year:

2013

Running Time:

121 Minutes

Website:

Official Film Website

US Distributor:

The Weinstein Company