Punch-Drunk Love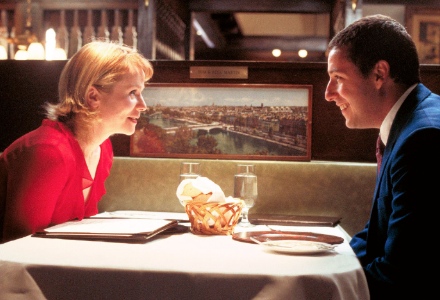 July 16, 2014
Casting Adam Sandler in this unconventional romantic comedy was a surprising move for Paul Thomas Anderson, but paid off wonderfully as the director perfectly channeled Sandler's barely repressed anger.
Sandler plays Barry Egan, a novelty toiletries salesman with a huge family of sisters who is subject to bursts of rage. In the midst of attempting to win a pudding cup sweepstakes, he finds himself in a battle with a vindictive mattress salesman (Philip Seymour Hoffman), and begins a tentative love affair with a luminous, and equally strange, English woman (Emily Watson).
Winner of Best Director at the 2002 Cannes Film Festival.
Director:

Paul Thomas Anderson

Principal Cast:

Adam Sandler, Emily Watson, Philip Seymour Hoffman, Luis Guzmán, Mary Lynn Rajskub

Country:

USA

Year:

2002

Running Time:

95 Minutes