Keep On Keepin' On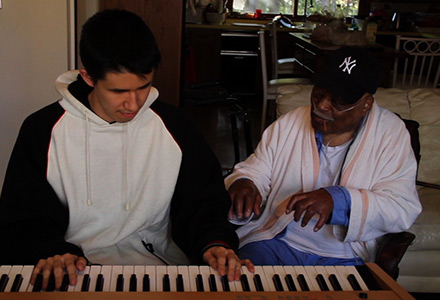 June 13, 2014
2014 Golden Space Needle Award: Best Documentary | This tribute to jazz legend Clark Terry, who taught Quincy Jones and Miles Davis, shows his passionate commitment to mentorship. Now in his 90s, Terry helps blind pianist Justin Kauflin (today a prodigious working artist) realize his dream.
Even among the living legends of jazz, Clark Terry's star shines extraordinarily bright. The trumpeter, who played in both the Count Basie and Duke Ellington orchestras before striking out on his own, has built up one of the music's most extensive and celebrated discographies. But perhaps his greatest legacy began when he offered lessons to 15-year-old Quincy Jones, meeting in the early morning before Jones headed off to school and Terry, after a night of playing, retired to bed. Since then, Terry has devoted much of his time to music education, mentoring young players with a generous encouragement that's of a piece with the warm, expansive tone he coaxes from his instrument. Keep on Keepin' On is a portrait of the relationship with one of his most recent students, pianist Justin Kauflin, blind since the sixth grade. Bracingly intimate and humane whether recording late-night rap sessions or chronicling Terry's health problems, the film avoids the easy cliché of playing up the unlikely nature of such a pair. Here, the triumph is that nothing strange is seen at all in a nonagenarian raconteur and a shyly giggling 23-year-old cleaving together so thoroughly over a love of music, and each other.
Director Biography
Prior to directing Keep On Keepin' On, Australian Alan Hicks was a drummer, surfer, and former student of jazz legend Clark Terry's at William Paterson University near New York City. Hicks began documenting the film, his first feature, as a college student and while traveling the world as a member of Terry's musician ensemble in the mid-2000s. Along with director of photography Adam Hart, they at times seemingly became part of Terry's and (fellow featured subject) Justin Kauflin's extended families. This in turn provided them dramatic and unprecedented access to intimately capture the unfolding story of Keepin' On.
Director:

Alan Hicks

Principal Cast:

Clark Terry, Justin Kauflin, Quincy Jones, Gwen Terry, Herbie Hancock

Country:

USA

Year:

2014

Running Time:

84 minutes

Producer:

Paula DuPre' Pesmen, Quincy Jones

Screenplay:

Alan Hicks, Davis Coombe

Cinematographers:

Adam Hart

Editors:

Davis Coombe

Music:

Justin Kauflin, Dave Grusin

Website:

Official Film Website

Awards:

Tribeca Film Festival 2014 (Best New Director)

Filmography:

Debut Feature Film

Language:

English

Format:

DCP

International Sales:

Submarine Entertainment