Dior and I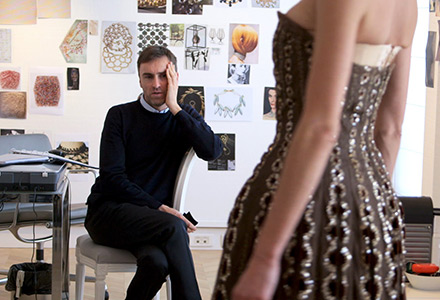 June 14, 2014
J'adore Dior! This elegant glimpse into artistic director Raf Simons' entry into the House of Christian Dior, and into the creation of his first haute couture collection, sparkles as an homage to the iconic house.
"If there's ever been a show that the fashion world has waited with absolute bated breath to see, it's this one: Raf Simons' debut for Christian Dior," wrote Vogue in July 2012. In a room filled with flowers, as models slunk down the line in cigarette pants and abbreviated ball gowns, the guests included Harvey Weinstein, Marion Cotillard, Charlotte Rampling, and royalty. Now, Frédéric Tcheng's documentary puts us all front, center, and behind the scenes leading up to that year's April event. While Tcheng's Diana Vreeland: The Eye Has To Travel, leaned heavily on archival footage of the iconic fashion editor, Dior and I is an immediate and fresh documentary of a pivotal moment in contemporary haute couture. The elegant lines of Dior's mid-20th century "New Look" that Vreeland championed—wasp-waisted bodices and voluptuous flared skirts—were returned in homage through Simons' introductory collection for the house. Tcheng's crew was given full access to the goings-on almost as soon as Simons succeeded John Galliano as artistic and creative director. Dior and I looks at Simons's group of collaborators, and particularly the atelier's seamstresses. The evening before the show, we see six people sitting around a kitchen table, hand-sewing delicate beads onto a sheer piece of fabric. They're called away to toast Simons with Champagne, in a warm display of mutual admiration for what they've accomplished. "I found myself trying to conjure this ghost of Christian Dior," Tcheng told The Hollywood Reporter, "creating a more immersive experience for the viewer." J'adore!
Director Biography
Frédéric Tcheng is a French-born filmmaker. Originally trained in civil engineering, he moved to New York City in 2002 to attend Columbia University's film school, from which he obtained a MFA in 2007. He co-produced, co-edited and shot Valentine: The Last Emperor, the 2009 hit documentary shortlisted for the Best Documentary Oscar. He is also the co-director of Diana Vreeland: The Eye Has to Travel, a Samuel Goldwyn release, and has collaborated with the poet Sarah Riggs and the fashion photographer Mikael Jansson, among others.
Original Language Title:

Dior et moi

Director:

Frédéric Tcheng

Principal Cast:

Raf Simons, Anna Wintour, Sidney Toledano, Pieter Mulier

Country:

France

Year:

2014

Running Time:

89 minutes

Producer:

Guillaume de Roquemaurel, Frédéric Tcheng

Screenplay:

Frédéric Tcheng

Cinematographers:

Gilles Piquard

Editors:

Julio C. Perez IV

Music:

Ha-Yang Kim

Website:

Official Film Website

Filmography:

Diana Vreeland: The Eye Has To Travel (2011)

Language:

French, English

Has Subtitles:

Yes

Format:

DCP

International Sales:

Submarine Entertainment