The Nightingale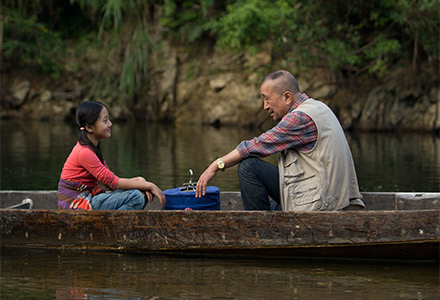 June 15, 2014
In this ravishingly beautiful movie, Philippe Muyl takes us on a Chinese road trip through spectacular mountain villages to discover a bucolic existence. A grandfather travels towards his memories, while his granddaughter finds simple wonders she never knew existed.
In this bittersweet and beautifully lensed family saga, veteran French filmmaker Philippe Muyl takes us on a road trip through spectacular Chinese mountain villages to discover a bucolic way of life. Zhigen's family moved from the countryside to Beijing 20 years ago so that his son could attend university. But now, the men haven't spoken in four years. Feeling disconnected from his family, Zhigen decides it's time to fulfill a promise made to his late wife, to return to their village and set free a bird—who, since her death, has been Zhigen's constant companion. Just as he's about to leave, he's asked to bring his spoiled granddaughter, Renxing, along. Brought up in the lap of luxury, Renxing is more familiar with iPads than with trekking through forests and rice paddies. Is it time for her to spread her wings? Meanwhile back in Beijing, Renxing's materialistic parents start to reevaluate what life means to them. This journey of nostalgia and discovery—which thrillingly flows through the lush green countryside—brings everyone in the family closer. This Franco-Chinese coproduction is a loose remake of a story Muyl previously told as 2002's French-language Le Papillon (The Butterfly), which was an unexpected smash with Chinese audiences.
Director Biography
Philippe Muyl, born in 1953 in Lille, France, began his career in advertising. Muyl produced and directed his first film in 1985, marking the beginning of his film career. The Nightingale is Muyl's ninth feature film, making him the first non-Chinese director to shoot a completely Chinese film.
Director:

Philippe Muyl

Principal Cast:

Li Bao Tian, Li Xia Ran, Qin Hao, Yang Xin Yi

Country:

China, France

Year:

2013

Running Time:

108 minutes

Producer:

Ning Ning, Hong Qin, Paul Delbeck, Steve René

Screenplay:

Philippe Muyl, Ning Ning

Cinematographers:

Ming Sun

Editors:

Kako Kelber, Manuel De Sousa

Music:

Armand Amar

Filmography:

Stroller Bird (2012); Magic (2007); The Butterfly (2002); The Cow and the Boy (2000); Everything Must Go (1996); Kitchen and Addictions (1992); Tree Under the Sea (1984)

Language:

Mandarin

Has Subtitles:

Yes

Format:

DCP

International Sales:

Kinology