Marmato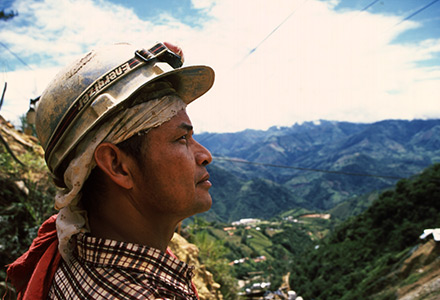 June 13, 2014
SIFF 2014 Best Documentary: Grand Jury Prize | Underneath the Colombian village of Marmato lies one of the world's biggest gold reserves, and the local men risk their lives every day to mine for it. Marmato is a documentary about the foreign investment that caused this corporate gold rush and the individuals who must fight to maintain their way of life.
Industrialization invades a quiet Colombian village in Mark Grieco's debut documentary Marmato. An enormous Canadian mining corporation knows about the $20 billion worth of gold embedded in the ground beneath the small town, and they're stopping at nothing to reach the invaluable fortune. Now, the generations of townspeople who have worked their whole lives in Marmato's mines to support themselves and their families must confront the reality of globalized mining and the likelihood that they'll be displaced by industry's pursuit of its new frontier. A way of life, and hundreds of years of heritage are at risk when the villagers battle political and social strife to maintain their relentless dedication to preserving their traditions. Confronted with the decision about whether to fight or to flee, the townspeople become divided in the face of corporate greed. Grieco urges us to consider the pros and cons of shifting an entire culture into a bold, new future, and the likelihood that Marmato's culture can truly be preserved amidst this modern gold rush.
Director Biography
Mark Grieco is an independent filmmaker and photojournalist interested in human rights and justice in the global economy. Marmato is his first feature-length film. He has spent many years in Latin America taking photographs and producing short documentaries. Grieco studied film production at NYU's Tisch School of the Arts.
Director:

Mark Grieco

Country:

Colombia, USA

Year:

2014

Running Time:

87 minutes

Producer:

Mark Grieco, Stuart Reid

Screenplay:

Mark Grieco

Cinematographers:

Mark Grieco

Editors:

Ricardo Acosta, Mark Grieco

Music:

Todd Boekelheide

Website:

Official Film Website

Filmography:

Debut Feature Film

Language:

Spanish, English

Has Subtitles:

Yes

Format:

HDCAM