Science Fiction + Fantasy Short Film Festival 2019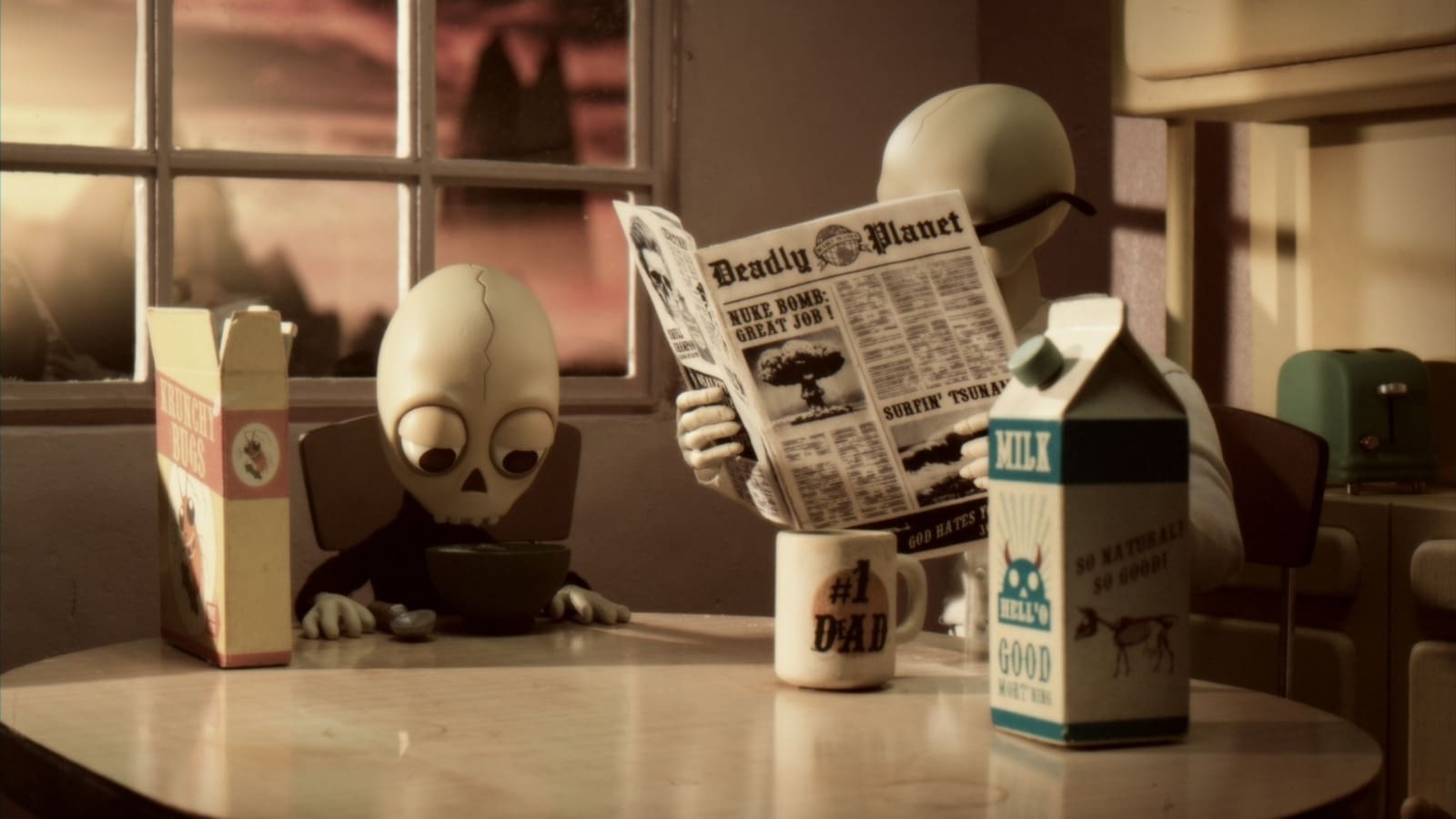 March 9, 2019
Schedule
Will include a 30-minute intermission between viewing sessions, with a Q&A and awards ceremony to follow the second session.
Doors Open: 11:00am | Session 1: 12:00-2:00pm | Session 2: 2:30-5:00pm
Tickets
$22 (General Admission)
There is no member price for this event.
SIFF Passes, vouchers and other discounts are not valid.
SESSION 1
Session 1 showcases eight animated and live-action science fiction, fantasy, and horror-tinged short films from around the globe as part of this celebration of artistic excellence in illuminating and unconventional films!
107 min
Packaged Films
The Death, Dad & Son
d. Winshluss & Denis Walgenwitz | PNW Premiere | France | 14 min
The Death' son doesn't want to take back the family business. He has the secret dream to become a guardian angel, this will trigger a succession of collapses. His dad will have to get him out of this mess.
Strowlers
d. L. Gabriel Gonda | Germany | 19 min
In a world where magic is real and regulated by the government, everyone with talent must either register or run. Two women are caught on opposite sides of the conflict. Part-time librarian Whit (Tanesha Ross) just wants to tell stories and enjoy a quiet life with her girlfriend Amanda (Trin Miller). But when her favorite fairy tale comes to life during a reading at the library-summoning government forces intent on repressing all non-sanctioned magic-she is thrust into a world where underground magic users fight for their right to exist, where children with powers are torn from their families, and where her girlfriend's research threatens to throw the entire system into chaos. Now, she must choose between loyalty to her partner and protecting a young girl who can't control her newfound magic.
10 Minute Time Machine
d. Charles Wahl | PNW Premiere | Canada | 10 min
George nervously waits for Lori to show up for their date, an engagement ring sitting heavily in his pocket. But when she arrives with news that she's found a time machine that allows them to travel 10 minutes back in time, their imaginations run wild with how they can put it to use. When they realize the time machine is even more powerful than they thought, past and future versions of themselves appear with advice how to use it.
DISPEL
d. Kylie Eaton | World Premiere | USA | 14 min
When young Lizzie learns her older brother is moving out, she realizes she will be left at home alone with her monster of a mother. Armed with the lessons of her favorite TV show, 'Celeste Skygoode', Lizzie battles to save her mother from the dark forces that have transformed her.
The Nine Billion Names of God
d. Dominique Filhol | France | 15 min
1957, New York. A Tibetan monk rents an automatic sequence computer. The monks seek to list all of the names of God. They hire two Westerners to install and program the machine in Tibet...
Preri Foon
d. Jen Tamayo Jörfjord | Sweden | 5 min
Distant noise during a calm night. Fragile windows witness downfall in an artificial light of dawn. A portrait of objectification.
Who's Who in Mycology
d. Marie Dvorakova | Czech Republic, USA | 16 min
Tony, a young trombone player, spends an adventurous night trying to open an impossible bottle of wine. An unconscious girl, a crooked bookcase and some mold get in his way, turning his world upside down. When the night is over he is forced to commit the ultimate act of courage.
The Narrow World
d. Brent Bonacorso | USA | 15 min
The Narrow World is the story of a gigantic alien that crashes to Earth and takes up residence in Los Angeles. Contrary to expectations, when the alien is neither hostile towards the tiny humans around it, nor communicative in any way, it falls on the populace to decipher what, exactly, this visitor wants and what it means for them. One man sees more to it- a message, perhaps, that may tell us less about the alien, and more about our deepest inner selves, about the mysteries of the soul.
---
SESSION 2
Session 2 showcases eight animated and live-action science fiction, fantasy, and horror-tinged short films from around the globe as part of this celebration of artistic excellence in illuminating and unconventional films!
98 min
Packaged Films
The Restrictor
d. Jade Hærem Aksnes | PNW Premiere | Norway | 16 min
Happiness is scarce and must be monitored. Each citizen is given a monthly ration of joy - excessive use is punished. When the authorities introduce the ultimate punishment for excessive use, the restrictor Albert faces an impossible choice.
CC
d. Kailey Spear, Sam Spear | Seattle Premiere | Canada | 14 min
AIDCC28002025, known as CC, is an AID (Artificially Intelligent Device). She has been leased by Cloverhill Nanny Agency to Lena Howard to take care of her daughter, Adelaide. When a violent incident occurs between CC and Lena, an investigative team must determine what happened.
Brian and Charles
d. Jim Archer | UK | 12 min
Brian and Charles tells the story of an unlikely friendship forged in isolation. After a particularly harsh winter Brian goes into a deep depression; completely isolated and with no one to talk to Brian does what any sane person would do when faced with such a melancholic situation, he builds a robot. Charles is that robot. While life is pretty rosy for a while, tensions begin to rise between pair. Partly due to the fact that Charles has the cognitive ability of a 4-year-old child and completely due to the fact that he keeps eating Brian's cabbages. Things soon come to a head and Brian is forced to make a decision he may soon come to regret.
M52
d. Yves Paradis | Seattle Premiere | Germany | 10 min
What if you made an improvised animated film one week at a time for one year starting only with the concept of a character pushing a big cube in the desert. Where would this story go?
Gemini
d. Mily Mumford | Canada | 13 min
Angie is a popular figure in a near future VR Game Gemini. On her way back home, she meets a man called Chad on the subway platform. Through their conversation, Chad recognizes her voice and realizes they both play Gemini and she is the game's star player. As sparks fly, they discover they have a past- which uncovers the dark side of virtual reality and gaming.
Hyperlight
d. Nguyen-Anh Nguyen | Seattle Premiere | Canada | 17 min
A mysterious distress signal reaches Earth from a distant planet. Elite astronauts Philip Maeda and Emiliana Newton are sent to investigate. When they arrive at the source of the signal, their cryopods are ejected into space. They manage to return to their ship, only to discover that the distress signal they came to investigate was their own - only from a different time-space. Emiliana must find a way to solve the temporal paradox they are in or risk losing everything
Cosmic Dental Associates of Clifton, NJ
d. JP Chan | Seattle Premiere | USA | 3 min
Since 1998, Cosmic Dental Associates of Clifton has been the tri-state area's leading astrodentistry practice.
Final Offer
d. Mark Slutsky | PNW Premiere | Canada | 12 min
A down-on-his-luck, ambulance-chasing lawyer, Henry, wakes up in a mysterious room with no idea how he got there. He's greeted by a pleasant woman-or what seems like a woman-Olivia, who informs him he's been randomly selected to negotiate on behalf of a client. His client? The human race. The stakes? Just our continued existence on this planet. Peter must pull himself together for the negotiation of his life-and all of our lives, really-as he tries to cut a deal with an alien race. And the clock is ticking...
Running Time:

240 minutes