Peaches Christ's "9 to 5 Inches"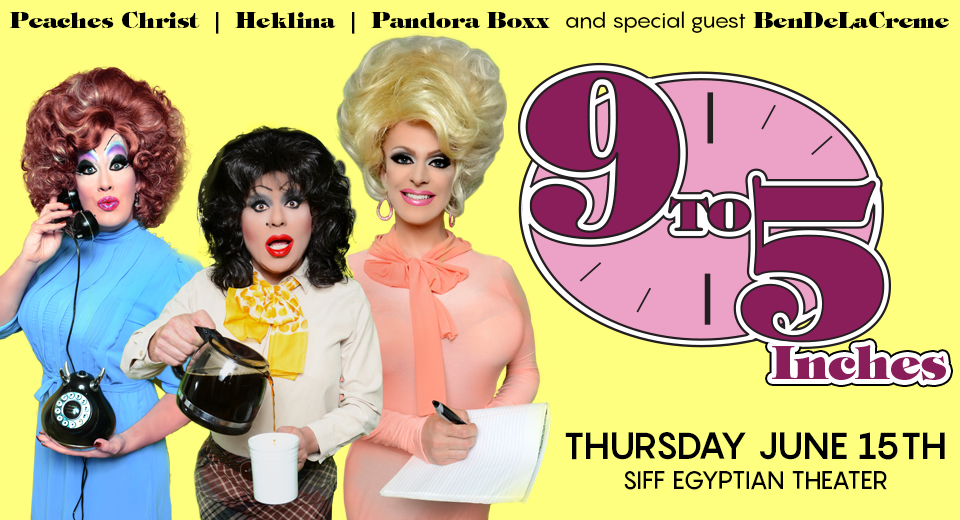 with Pandora Boxx, BenDeLaCreme, Heklina, and Peaches Christ
Qurb Media Group and Peaches Christ Productions proudly present a SHE-larious drag stage show parody of the hit 1980 cult classic film starring Jane Fonda, Lily Tomlin, and Dolly Parton, "9 to 5." This side splitting rendition stars RuPaul's Drag Race superstars PANDORA BOXX and BENDELACREME along with San Francisco drag legends HEKLINA and PEACHES CHRIST!
Watch these roosters become hens before your very eyes and cheer along as the ladies take on their sexist, egotistical, lying, hypocritical bigot boss in a drag show overthrow like no other!
Featuring a sensationally talented local cast of Seattle performers including: Mackenzie Miller, Fraya Love, Sparkle Leigh, Strawberry Shartcake, Isabella Extynn, Angel Snowbunny, Visage LaRue, and more!
Written & Directed by Peaches Christ
TICKETS ON SALE NOW!
VIP MEET & GREET EXPERIENCE AVAILABLE: Includes premium seating, meet & greet, a professional digital photograph with Pandora Boxx, BenDeLaCreme, Heklina, and Peaches Christ, and a complimentary glass of champagne. VIP Meet & Greet begins immediately following each showing.
VISITING FROM OUT OF TOWN
Please check out our official partner hotel ACE HOTEL SEATTLE and ENJOY your stay!
<<<NOTES>>>
Recommended for Ages 16 and up. All ages welcome.
Produced by: Qurb Media Group
For General Inquiries or Group Sales please email: hello@qurbmagazine.com