Stage To Screen Ongoing
Great performances from The National Theatre in London and The Royal Shakespeare Company stunningly captured in high-definition before a live audience and presented on the big screen. Plus other fine arts programming.
Next Screening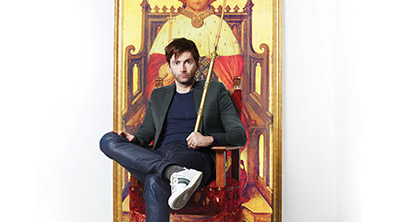 The Royal Shakespeare Company presents encore screenings of the recent hit performance of David Tennant ("Doctor Who") in the role as Shakespeare's troubled King Richard II.
Academy Award® winner Sam Mendes (Skyfall, American Beauty, Away We Go) directs this National Theatre production of Shakespeare's tragedy, updated to a modern totalitarian state setting. Legendary stage actor Simon Russell Beale stars in a performance that the Evening Standard raves, "Never ceases to astonish."
Now on Broadway, the National Theatre presents this special encore of their original adaptation of Mark Haddon's best-selling novel, the story of an autistic young man who is suspected of a violent act, leading him on a frightening journey that upturns his world.
This riotous exposure of entrepreneurial greed by Olivier Award-winning playwright Alan Ayckbourn returns to the National Theatre for the first time since its celebrated premiere in 1987, when it won the Evening Standard Award for Best Play.