SIFF Cinema presents year-round film going experiences, including the best feature films and one of a kind special events.
SIFF Cinema
The First Draft screenplay series gives local writers an exciting chance to stage readings of their work with professional actors, a live audience, and feedback from industry insiders.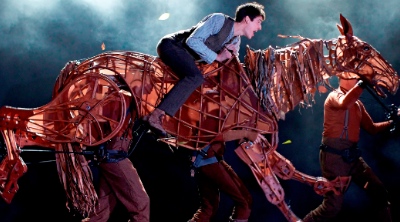 Don't miss the return of The National Theatre's original stage production of War Horse, an international smash hit that has captured the imagination of millions around the world.
SIFFtv
AmazonSmile
News
3/10/2014
SIFF TO TAKE PART IN FIRST-EVER NATIONAL EVENING OF SCIENCE ON SCREEN
3/3/2014
FLY FILMMAKING CHALLENGE 2014: FIVE SEATTLE-BASED PRODUCTION COMPANIES TO CREATE "SEATTLE, I LOVE YOU" SHORT FILMS FOR SIFF 2014
1/30/2014
NOIR CITY 2014: EDDIE MULLER BRINGS 16 FILM NOIR CLASSICS FROM AROUND THE WORLD
1/16/2014
SIFF RECEIVES NATIONAL ENDOWMENT FOR THE ARTS ART WORKS GRANT TO SUPPORT 40TH ANNUAL SEATTLE INTERNATIONAL FILM FESTIVAL
1/8/2014
WOMEN IN CINEMA 2014: SIFF CELEBRATES EXCEPTIONAL WOMEN FILMMAKERS
11/7/2013
CINEMA ITALIAN STYLE 2013: SIFF AND SPECIAL GUESTS TO CELEBRATE THE BEST OF CURRENT ITALIAN FILMS
10/23/2013
BEST OF NATIONAL THEATRE LIVE AT SIFF FEATURING KENNETH BRANAGH AND BENEDICT CUMBERBATCH