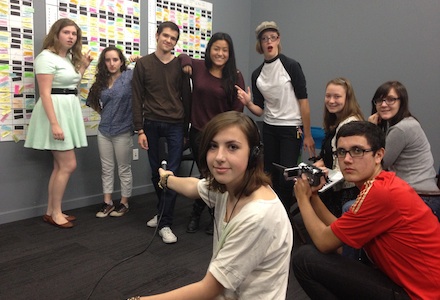 Crash Kids
Crash Kids is a non-competitive movie production challenge that takes participants from movie concept to movie screening over the course of a day.
Schedule

Crash Student (Ages 13 - 22) | October 11
Crash Kids (Ages 8 - 12) | December 13
Crash Kids is free and engages local schools, youth, and families with a meaningful approach to cinema production. Participants receive hands-on experience with filmmaking in less than 24 hours.
Young people arrive in the morning, are assigned teams, and are given basic materials and instructions for their films. Then the teams scatter to script, shoot, and edit their productions. At the end of the day, the new films are screened for the first time at the Crash Kids Cinema world premiere and wrap party.
Contact us to receive the Monthly Education Newsletter to hear about upcoming Crash Kids programs.
---
Crash Rules
Films must be no longer than three-minutes and must include the five Crash elements. The five elements include a genre, a type of action, a character's name, a line of dialogue, and a prop/costume.
Team Needs
Each team must provide their own equipment including a video camera (can be a cell phone), a way to transfer footage to an editing system, computer with editing software, burnable dvd or flash drive.
---
Schedule
9:00am
Teams assemble, Crash elements are chosen randomly and official rules are reviewed.


9:30am - 5:00pm
Crash Filmmaking

5:00pm
All Crash films are due on DVD or Flash Drive

5:00pm - 7:00pm
Crash Wrap Party & Screening. Free and open to all. Snacks provided.

Need more information? Send us an email.