Work at SIFF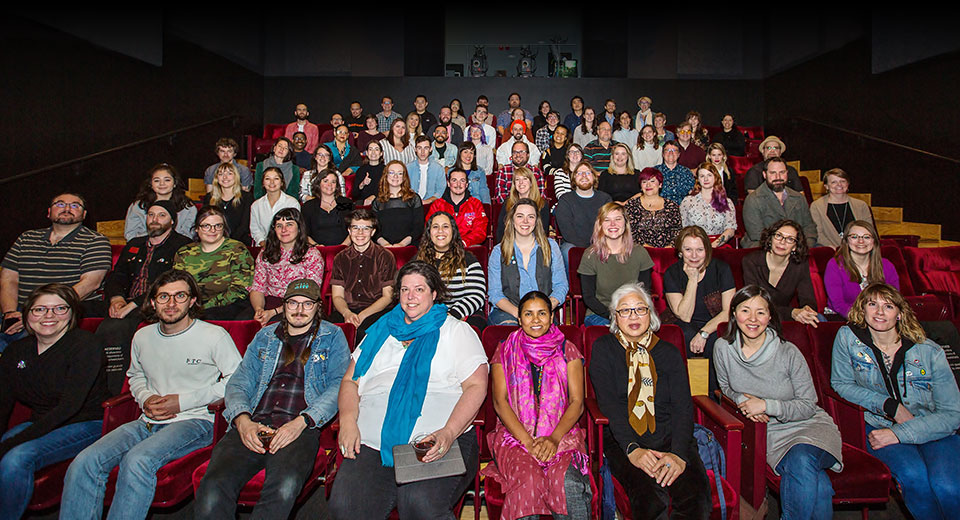 SIFF employees not only champion diverse voices in film, but are experts in fun. Our team consists of passionate film-lovers, esteemed nonprofit leaders, skilled box officers and ushers, innovators in creative marketing, programmers with a collective encyclopedic knowledge of film (and impeccable taste), popcorn aficionados, and more.
Join our team and become a champion of creating experiences that bring people together to discover extraordinary films all year long.
FESTIVAL LOUNGE ASSISTANT
SIFF seeks a temporary skilled Festival Lounge Assistant. The Festival Lounge Assistant is the face of the 47th Seattle International Film Festival's Virtual Lounge. The Festival Lounge provides space for SIFF passholders, guests, sponsors, and filmmakers to connect as a community during the festival. The Festival Lounge Assistant will assist with daily Lounge operations, including virtual open & close procedures, greeting attendees as they arrive, and providing excellent customer service and technical support for any common technical issues. This role will work nights and weekends during the festival. Temporary, seasonal.
DIRECTOR OF DEVELOPMENT
SIFF is seeking a dynamic and charismatic Director of Development with demonstrated success in Individual Giving. The successful candidate will build SIFF's Development team and be skilled at donor relationship management and developing fundraising strategies. The Development Director is a new position to SIFF and offers an excellent opportunity for an entrepreneurial minded Development professional. This position reports to and partners with the Executive Director to grow SIFF's portfolio of annual contributed cash income from $1.6M to >$6.0M over the next 3-5 years in addition to managing an in-kind portfolio. This position will also create the structure for a new development team to support grant writing, cash and in-kind donations and sponsorships and oversee membership to develop and implement strategies to increase the number of SIFF members through new attraction and retention efforts. Full-time.
FESTIVAL CONTENT MANAGEMENT OFFICER
SIFF seeks a Festival Content Management Officer works with the Technical Manager to ensure that all festival video content is inspected and uploaded to our online streaming portal. For the past 45 years, we have convened a 25 day, in-person film festival with an audience focuses. Due to COVID, we are going virtual and transitioning to a virtual 11-day festival; this is a unique opportunity to support one more of SIFF's history making moments in the temporary position by providing excellent technical assistance to our film audiences. This position will also play a supporting role to the Technical Manager on special presentations and events. Temporary, seasonal.
---
About SIFF
Founded in 1976, SIFF creates experiences that bring people together to discover extraordinary films from around the world with the Seattle International Film Festival, SIFF Cinema, and SIFF Education. Recognized as one of the top film festivals in North America, the Seattle International Film Festival is the longest, most highly attended film festival in the United States, reaching nearly 140,000 annually. The 25-day festival is renowned for its wide-ranging and eclectic programming, presenting over 400 features, short films, and documentaries from over 90 countries each year. SIFF Cinema exhibits premiere theatrical engagements, repertory, classic, and revival film showings 363 days a year on five screens at the SIFF Cinema Uptown, SIFF Cinema Egyptian, and SIFF Film Center, reaching more than 175,000 attendees annually. SIFF Education offers educational programs for all audiences serving more than 10,000 students and youth in the community with free programs each year.
SIFF is an equal opportunity employer. We seek to hire candidates that reflect the cultural diversity of our community. We believe every employee has the right to work in an environment free from unlawful discrimination as is consistent with our commitment to diversity, respect, and inclusion. Consistent with applicable federal, state, and local laws, SIFF provides all employees and applicants with equal opportunity in all aspects of the employment relationship.

All employees of SIFF share the responsibility of ensuring that our EEO policy is fully supported throughout all levels of our organization and in our business relations.