Volunteer
SIFF Volunteers are key to the success of SIFF Cinema, Seattle International Film Festival, and SIFF Education.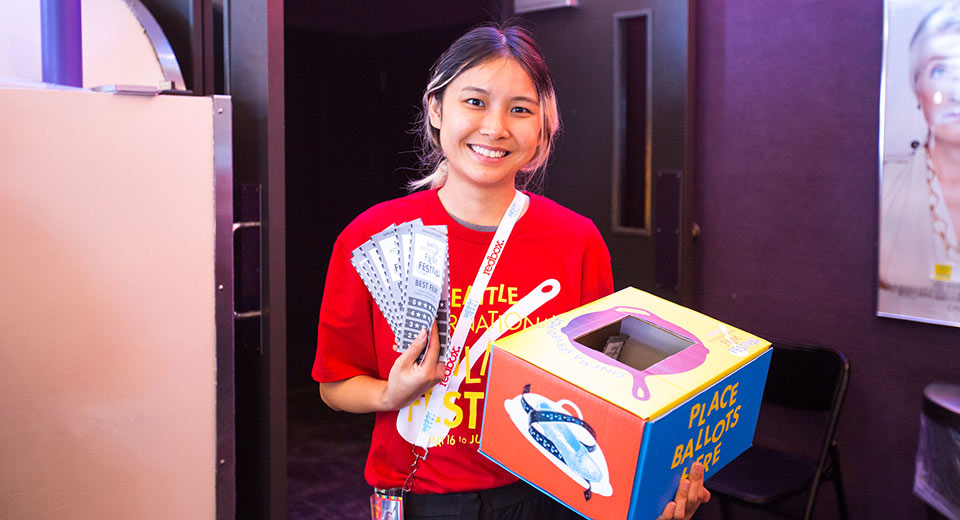 Thank you for your interest in volunteering with SIFF. At this time we do not have any active shifts, but always welcome new volunteers to register! For questions about volunteer vouchers, please email boxoffice@siff.net. For any general volunteer questions, please email volunteers@siff.net.
The 2022 Seattle International Film Festival is right around the corner! More information will come soon, but mark your calendars for our Annual Volunteer Meeting on Saturday, March 12 at SIFF Cinema Uptown.
Thank you to all volunteers for your continued support of SIFF! We look forward to connecting with you again soon.
Our volunteers are an essential piece of SIFF success. As a volunteer, you will meet tons of people and, of course, see great films! Whether you're new to SIFF or a seasoned attendee, anyone over the age of 16 years old is welcome to register to volunteer.
"Volunteering at SIFF has brought me long-lasting friendships. Originally I volunteered because I love films; I continue because of the fun, friendly, and happy people."—Shawn, SIFF Volunteer since 2011
---
HOW TO VOLUNTEER
If you're interested in learning more about volunteering with SIFF, please check out our Volunteer Compendium. The compendium takes you through Shiftboard registration and use, full listings of all SIFF volunteer position types, information on volunteer benefits, and more! An updated 2022 version of the Volunteer Compendium will be available digitally mid-February.
If you are a new SIFF Volunteer, please register with Shiftboard. Shiftboard is our online scheduler and how we communicate with our volunteers. Once your registration is processed, you will receive a welcome email from us (check your bulk/spam/junk folder!) that will include your new password. You can then access your account to join teams, view our calendar, and pick up shifts. We will also announce available shifts, trainings, and informational meetings through Shiftboard.
If you have volunteered with us in the past, and already have a SIFF Shiftboard account, you do not need to re-register.
Please keep in mind that the majority of our volunteer needs occur during the Seattle International Film Festival in May and June, so available shifts outside of these months will be limited.
VOLUNTEER APPRECIATION
Vouchers
In appreciation for their service, SIFF volunteers receive vouchers that are redeemable for Festival, SIFF Cinema, or SIFF membership. For every two hours of service, a volunteer receives one voucher. One voucher can be redeemed for one regularly priced ticket. Vouchers are transferable, but the sale of vouchers is strictly prohibited. Some programs and films prohibit the use of vouchers; please check listings. For full volunteer benefit information, please see the Volunteer Compendium (PDF).
SIFF Membership
In addition to redeeming vouchers for tickets, you may redeem five volunteer vouchers for a SIFF Membership. A SIFF Membership grants you discounts on tickets and passes, and invitations to member-only events and screenings. You can fill out the Vouchers for Membership Form, and learn more about the benefits of a SIFF membership on our Membership page.