Volunteer
SIFF Volunteers are key to the success of SIFF Cinema, Seattle International Film Festival, and SIFF Education.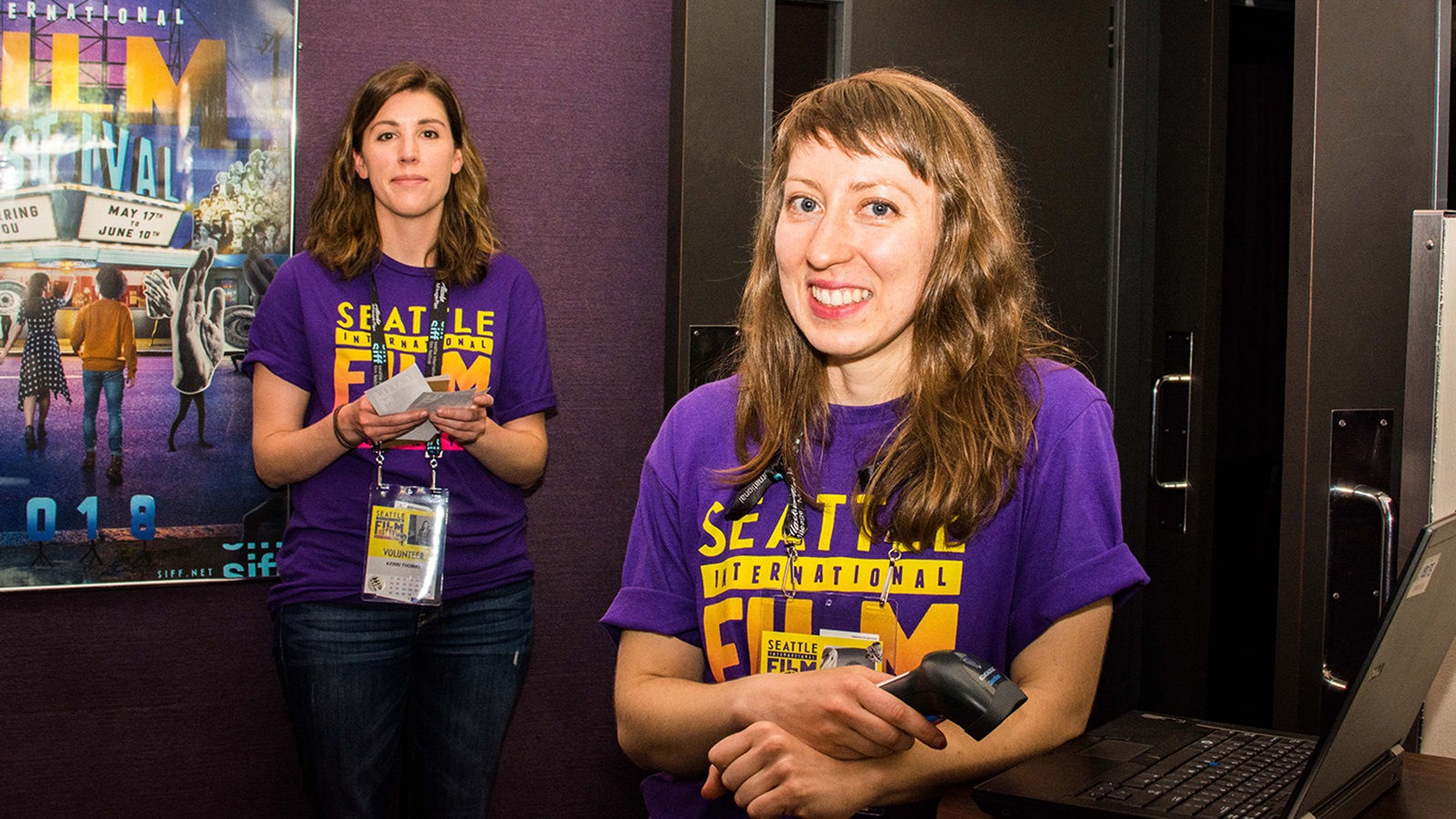 A Huge thank you to our 2023 Festival Volunteers! Check out their incredible contribution on our Volunteer Recognition Page.
Thank you for your interest in volunteering with SIFF! Our volunteers are an essential piece of SIFF, and we offer ways to engage year-round and during the Seattle International Film Festival. As a volunteer, you will support SIFF's Mission, engage with fellow film-lovers and, of course, see great films! Whether you're new to SIFF or a seasoned attendee, anyone over the age of 16 years old is welcome to register to volunteer.
On this page:
How to Volunteer
Festival Volunteer Opportunities
Year-Round Volunteer Opportunities
SIFF's eLearning Library
Volunteer Appreciation
---
HOW TO VOLUNTEER
Volunteering with SIFF is as easy as 1-2-3!
Complete the brief Volunteer Orientation e-learning course that will provide you with essential knowledge to be successful as a SIFF volunteer.
Register for an account on our volunteer management site, Shiftboard. Here you can browse and claim available volunteer opportunities and get the latest volunteer news and updates, right to your inbox. If you have volunteered with SIFF in the past, and already have a SIFF Shiftboard account, you do not need to re-register, but please take a moment to review and update your contact information.
Submit proof of COVID-19 vaccination. Based on CDC recommendations, the bivalent booster is the best protection against COVID for you and those you are working with. SIFF requires all it's staff to be fully vaccinated and boosted. However, if you are unable to get this booster before you volunteer with SIFF, we ask that you remain masked in all group settings.

SIFF will provide N95 masks for any volunteers who wish to use them. SIFF will not be able to enforce masking for those without the booster, but hope in the spirit of care for our volunteers, workers and patrons that anyone unboosted will adhere to these protocols.

To complete the onboarding process, please complete this form and upload a photocopy or screenshot of your vaccination records, or email your records to volunteers@siff.net.
---
FESTIVAL VOLUNTEER OPPORTUNITIES
Thank you to our 2023 SIFF Volunteers! Check back for more Festival Volunteer Opportunities.
---
YEAR-ROUND VOLUNTEER OPPORTUNITIES
CINEMA USHERS

These volunteers support theater operations staff at our three SIFF Cinemas by greeting patrons, scanning tickets and more.

SPECIAL EVENTS

Support SIFF during various events with setup, food & beverage service, and check-in.

MARKETING & PROMOTIONS

Volunteers provide photo and videography services, and spread the word about SIFF happenings by distributing flyers and posters at businesses and community events.
---
SIFF'S E-LEARNING LIBRARY
Volunteers can access how-to guides, review policies, and complete prerequisite training virtually by accessing SIFF's eLearning Library!
---
VOLUNTEER APPRECIATION
VOUCHERS
In appreciation for their service, SIFF volunteers receive vouchers that are redeemable for Festival, SIFF Cinema, or SIFF membership. For every two hours of service, a volunteer receives one voucher. One voucher can be redeemed for one regularly priced ticket. Vouchers are transferable, but the sale of vouchers is strictly prohibited. Some programs and films prohibit the use of vouchers; please check listings. For full volunteer benefit information, please see the Volunteer Guide (PDF).
APPRECIATION EVENTS
SIFF Volunteers receive exclusive invitations to special screenings and events throughout the year!
VOUCHERS TO SIFF MEMBERSHIP
In addition to redeeming vouchers for tickets, you may redeem five volunteer vouchers for a SIFF Membership. A SIFF Membership grants you discounts on tickets and passes, reciprocal benefits at several local organizations, and invitations to member-only events and screenings. You can fill out the Vouchers for Membership Form, and learn more about the benefits of a SIFF membership on our Membership page.
VOUCHERS FOR PASS REDEMPTION
SIFF volunteers get special invites to redeem their vouchers for Festival Film Passes, Annual Cinema Passes, and other special events!