Volunteer
SIFF Volunteers are key to the success of SIFF Cinema, Seattle International Film Festival, and SIFF Education.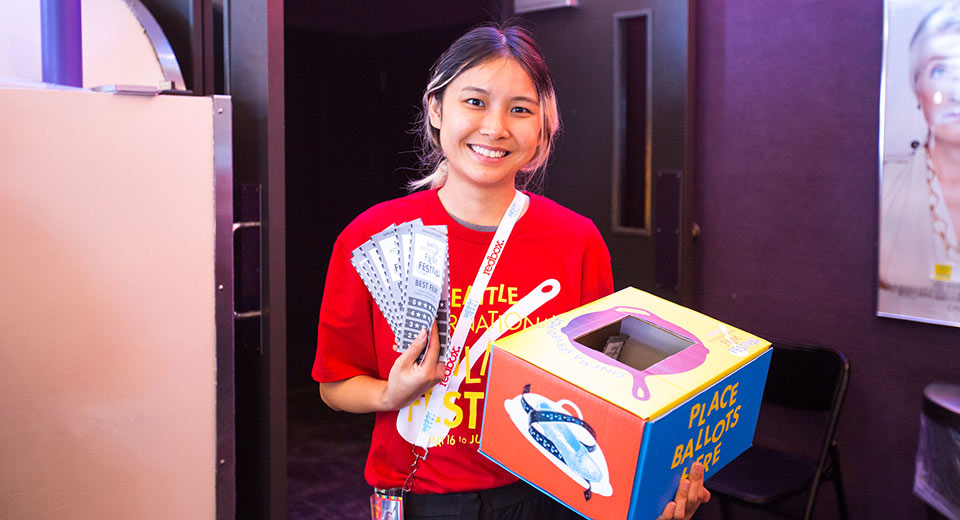 Thank you for your interest in volunteering with SIFF! The 2022 Seattle International Film Festival (April 14–24) is right around the corner, and our volunteers are an essential piece of SIFF success. As a volunteer, you will meet tons of people and, of course, see great films! Whether you're new to SIFF or a seasoned attendee, anyone over the age of 16 years old is welcome to register to volunteer.
On this page:
How to Volunteer
Volunteer Team Descriptions
Volunteer Appreciation
---
HOW TO VOLUNTEER
If you're interested in learning more about volunteering with SIFF, please check out our Volunteer Guide. The compendium takes you through Shiftboard registration and use, full listings of all SIFF volunteer position types, information on volunteer benefits, and more!
If you are a new SIFF Volunteer, please register with Shiftboard. Shiftboard is our online scheduler and how we communicate with our volunteers. Once your registration is processed, you will receive a welcome email from us (check your bulk/spam/junk folder!) that will include your new password. You can then access your account to join teams, view our calendar, and pick up shifts. We will also announce available shifts, trainings, and informational meetings through Shiftboard.
If you have volunteered with us in the past, and already have a SIFF Shiftboard account, you do not need to re-register.
Please keep in mind that the majority of our volunteer needs occur during the Seattle International Film Festival in April, so available shifts outside of these months will be limited.
---
VOLUNTEER TEAM DESCRIPTIONS
Universal Volunteers
Our universal volunteers fill various roles leading up to and throughout the Festival. This team supports SIFF staff with all the detailed work that goes into producing a world-class film festival! A few of the roles include:
BALLOT COUNTING

Ballot counting volunteers are an important behind the scenes part of SIFF. The Ballot crew makes sure that every audience member who chooses to vote has their voice heard. They are vital to making sure that our wonderful films receive the attention they deserve and the awards they've earned.
Duties include: Organizing and inventorying ballots, tallying up votes, inputting write-in voting results

MEMBERSHIP

Seeking volunteers to welcome and assist SIFF members at member events, such as the Member Preview Night and the Golden Space Needle Awards Brunch. We are looking for friendly, customer-service oriented folk to welcome, assist, and demonstrate SIFF's appreciation to our incredible annual and lifetime members!
Duties include: greeting members, distributing swag, coat check, ushers, etc.
Venue Crew
Venue Crew Training is scheduled Saturday, April 2 from 10:00am to 11:30am, AND Monday April 4 from 5:30pm to 7:00 pm, at SIFF Cinema Uptown. Attend the training that best fits your schedule.
Venue Crew volunteers are the face of the Festival and are often the only contact our patrons will have with SIFF. The Venue Crew sees that Festival patrons make it safely and comfortably from the sidewalk outside to their seats inside the theater, and bids everyone a fond farewell after the lights come back up.
Because of the many positions volunteers fill and because each position has different needs, Venue Crew members may work indoors or outdoors and may have multiple duties in a single shift All jobs require being on your feet for up to an hour at a time.
Duties include: Crowd Liaison, Lobby Attendant, Patron Clicker, Scanner, Ticket Collector, Usher
Guest Relations
Guest Relations Driver Training/Concierge Training will be offered Sunday, April 3, from 11:00am to 1:0pm, and Tuesday, April 5, from 7:00pm to 9:00pm, at the Hyatt Regency. Please attend the training that best suits your schedule.
DRIVER

Guest Relations Drivers interact with visiting filmmakers, press, and other guests by safely and reliably transporting them from point to point during the Festival. Drivers may meet a guest at the airport and escort them to their hotel; drive a guest to a screening, and accompany them inside; or provide event shuttle service for many guests.

CONCIERGE

The Concierge team will welcome incoming festival guests at the airport, assist with navigating public transit, greet guests at Westlake Station, and escort them to the official SIFF hotel, the Hyatt Regency.
Special Events
The Special Events Team is integral to supporting and producing over a dozen festival events. Team members are friendly, professional in attitude and appearance, and ready to get their hands dirty! The scope and responsibilities of each shift vary greatly so please check the descriptions when confirming shifts on Shiftboard for detailed information on position requirements.
Examples of Special Events Team shifts include: Gala set-up and strike, Serving and bussing, Guest check-in, Event guest Escorts/Security, Bartending
Street Team
COMMUNITY OUTREACH

The Community Outreach Street Team promotes the Festival at events, with the majority of events happening in April. Our mission is to increase awareness about SIFF Cinema, the Festival, and its diverse year-round programming by engaging the community through direct outreach at events, farmers' markets, neighborhood festivals, venues, and non-SIFF outlets.
Examples of Community Outreach Street Team shifts include: Distribute Guides, flyers, or other promotional materials at community events, Manage promotional table at community events answering questions about SIFF and the Festival

PROMOTIONS

The Promotions Street Team delivers promotional and outreach materials like the Festival Guide before and during the Festival in March and April. Team members distribute materials around the greater Seattle area.
---
VOLUNTEER APPRECIATION
VOUCHERS
In appreciation for their service, SIFF volunteers receive vouchers that are redeemable for Festival, SIFF Cinema, or SIFF membership. For every two hours of service, a volunteer receives one voucher. One voucher can be redeemed for one regularly priced ticket. Vouchers are transferable, but the sale of vouchers is strictly prohibited. Some programs and films prohibit the use of vouchers; please check listings. For full volunteer benefit information, please see the Volunteer Guide (PDF).
MEMBERSHIP
In addition to redeeming vouchers for tickets, you may redeem five volunteer vouchers for a SIFF Membership. A SIFF Membership grants you discounts on tickets and passes, and invitations to member-only events and screenings. You can fill out the Vouchers for Membership Form, and learn more about the benefits of a SIFF membership on our Membership page.