DEMIGOD: The Legend Begins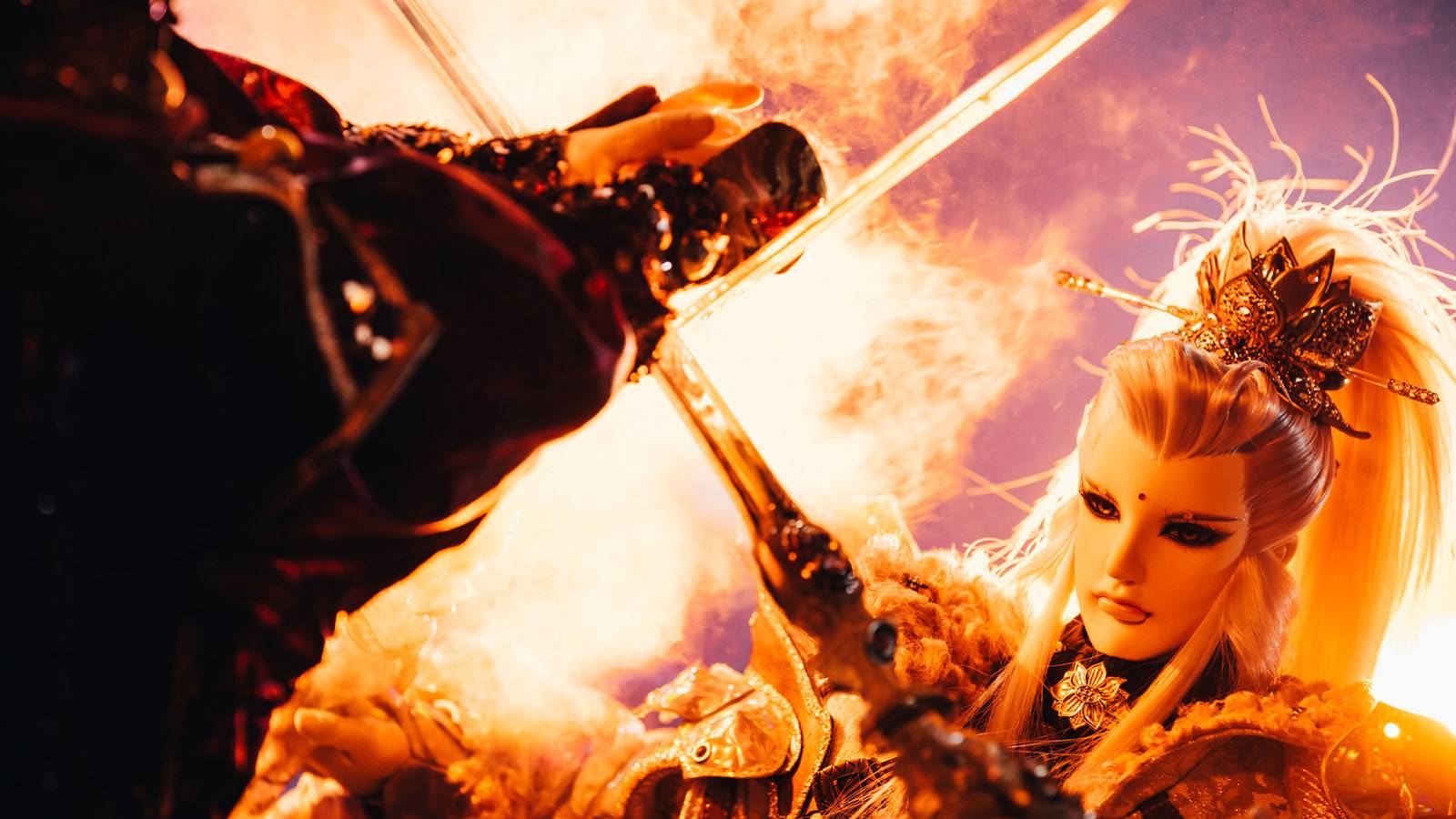 An ace acupuncturist and martial arts apprentice decides to treat the ailing Lord of the Five Mountains, landing instead in a deadly palace intrigue, in this baroque puppet animation wuxia epic that moves at a breakneck pace, featuring swashbuckling warriors, scheming vassals, and benign demigods. And yes, there will be blood.
Stylized swordplay, mystical monsters, and intricate dynastic struggles play out using immersive puppetry in this Taiwanese fantasy epic. Against the wishes of his master, Su Hua-Jen—a young doctor of acupuncture and a martial artist—agrees to heal the ailments of the Lord of Globe Castle in exchange for a glimpse at a magical book. Little does Su know that there are more sinister machinations afoot—he may have set off a power struggle between the leaders of the Five Kingdoms and evoked powerful celestial forces, awakening new powers within himself. Writer-director Chris Huang, in his second feature film using the Taiwanese technique of operatic glove puppetry called "bùdàixì," creates a rich, expanding universe with intricate sets, costumes, and stylish action set pieces. Somewhere between Avatar: The Last Airbender, Crouching Tiger, Hidden Dragon, and The Dark Crystal, DEMIGOD: The Legend Begins is an exciting fairy tale told in a style many may not have seen before. Viewers will be drawn in by the mythical lore, invigorated by the gripping martial arts, and filled with wonder as the stakes of the story keep being raised as the true operatic scope of the tale is revealed.
—Jonathan Kreisky
Original Language Title:

素還真

Director:

Huang Wen-Chang

Principal Cast:

Huang Wen Tze, Chiang Tzu Hsiang, Chen Sz Shian, Chan Ying Tzu, Chou Ying Tzu

Country:

Taiwan

Year:

2022

Running Time:

103 min.

Producer:

Huang Liang Hsun

Screenplay:

Huang Wen-chang, Huang Liang Hsun, He Yuan Yu

Cinematographers:

Li Ruei Fong, Huang Guang Jin

Editors:

Kao Ming Cheng

Music:

Chang Wei Fan

Website:

Official Film Website

Awards:

Taipei Film Awards 2022 (Best Animation, Outstanding Artistic Contribution)

Filmography:

Thunderbolt Fantasy: Bewitching Melody of the West (2019), The Arti: The Adventure Begins (2015), The Legend of the Sacred Stone (2000)

Language:

Taiwanese Hokkien

Has Subtitles:

Yes

International Sales:

Flash Forward Entertainment Co., Ltd.