Ernest & Célestine: A Trip to Gibberitia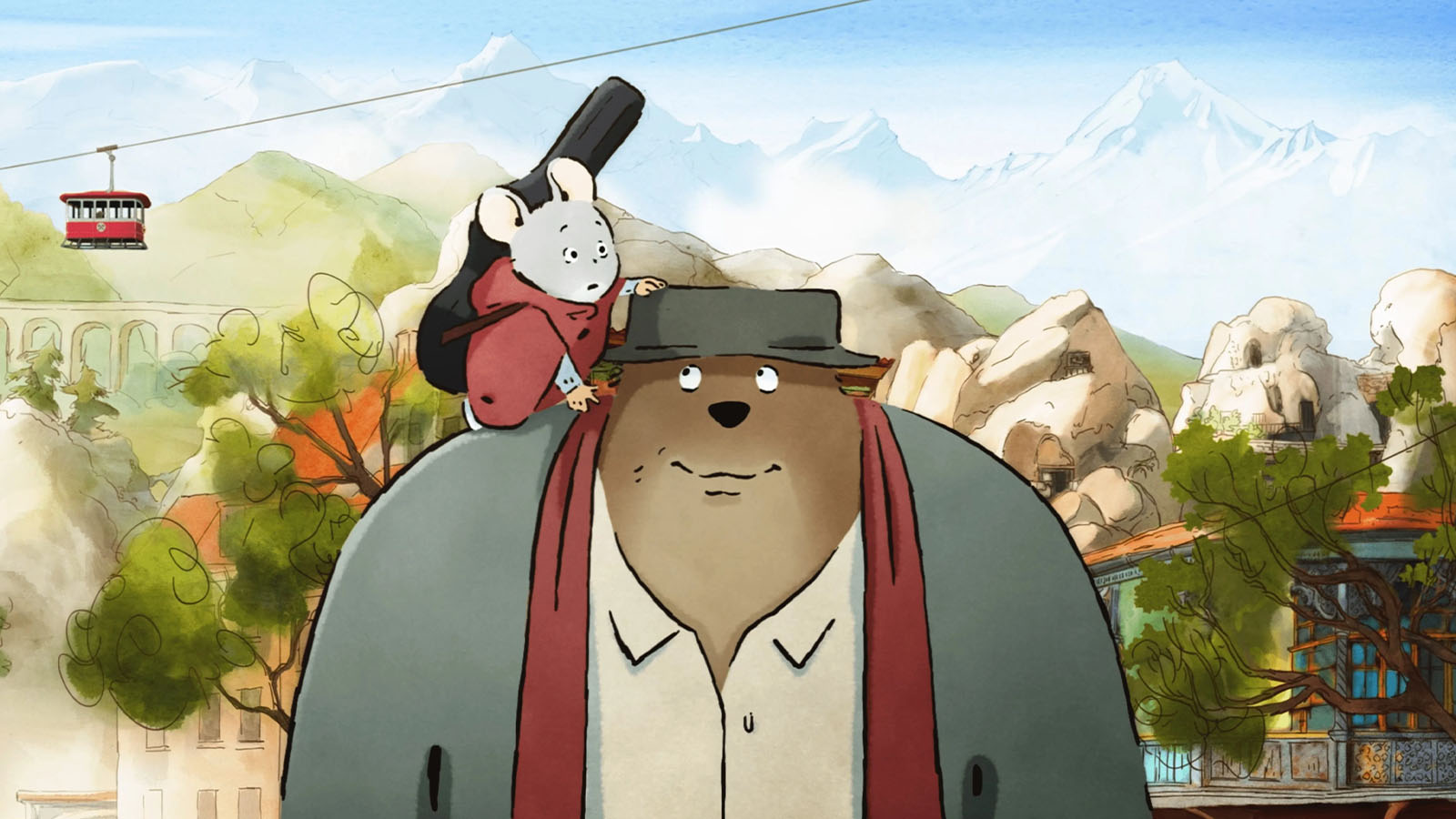 Ernest and Célestine return in this delightful and joyous follow-up to their first Academy Award®-nominated adventure, this time returning to the land of the bears to bring joy, happiness, and music back. Ages 7+, in French with English subtitles. Nominated for Best Animated Feature at France's 48th César Awards.

Everyone's favorite unlikely cartoon friends are back for another adventure in this sweet tale about reclaiming the power of music and art in a world of repression and fear. We first met Ernest and Célestine in the Academy Award®-nominated film Ernest & Célestine (SIFF 2013), in which a scrappy mouse and a grumpy bear musician meet as adversaries but end up as best friends. In this sequel, Célestine has accidently damaged Ernest's prized violin. To get it fixed, they make a journey to the place where Ernest was born, called Gibberitia, where he knows the only bear who can make the repairs. Ernest described this world as a magical place full of music and art, but when they arrive, the town square is strangely silent. When Ernest tries to play an accordion on the street, a team of angry bear police arrive to tell him that all forms of music have been banned for many years. The shocked friends then begin a quest to find out what happened to this land known for its brilliant musicians. Along the way, they meet up with a mysterious masked character, known only as "EFG," who is also wanted by the authorities. They decide to team up to bring music and joy back to the bear world. Co-directed by Jean-Christophe Roger and Julien Chheng, this charmingly hand-drawn animated feature resembles a vibrant watercolor painting brought to life, filled with fantastical landscapes and a host of odd, whimsical characters populating Gibberitia's underground "musical resistance" movement. Based loosely on a popular series of children's books by Gabrielle Vincent, A Trip to Gibberitia reaffirms how artistic expression can be a source of happiness for everyone—from the biggest bear to the smallest mouse.
—Randy Woods
Original Language Title:

Ernest et Célestine, le Voyage en Charabie

Director:

Jean-Christophe Roger, Julien Chheng

Principal Cast:

Lambert Wilson, Pauline Brunner, Michel Lerousseau, Céline Ronté, Lévanah Solomon

Country:

France, Luxembourg

Year:

2022

Running Time:

80 min.

Producer:

Damien Brunner, Didier Brunner, Stéphan Roelants

Screenplay:

Guillaume Mautalent, Sébastien Oursel, Agnès Bidaud, Didier Brunner

Editors:

Nezim Meslem

Music:

Vincent Courtois

Website:

Official Film Website

Awards:

New York International Children's Film Festival 2023 (Grand Prize Feature Animation)

Filmography:

Jean-Christophe Roger: The Storytelling Show (2011)

Language:

French

Has Subtitles:

Yes

US Distributor:

GKids

International Sales:

Studiocanal