Hanging Gardens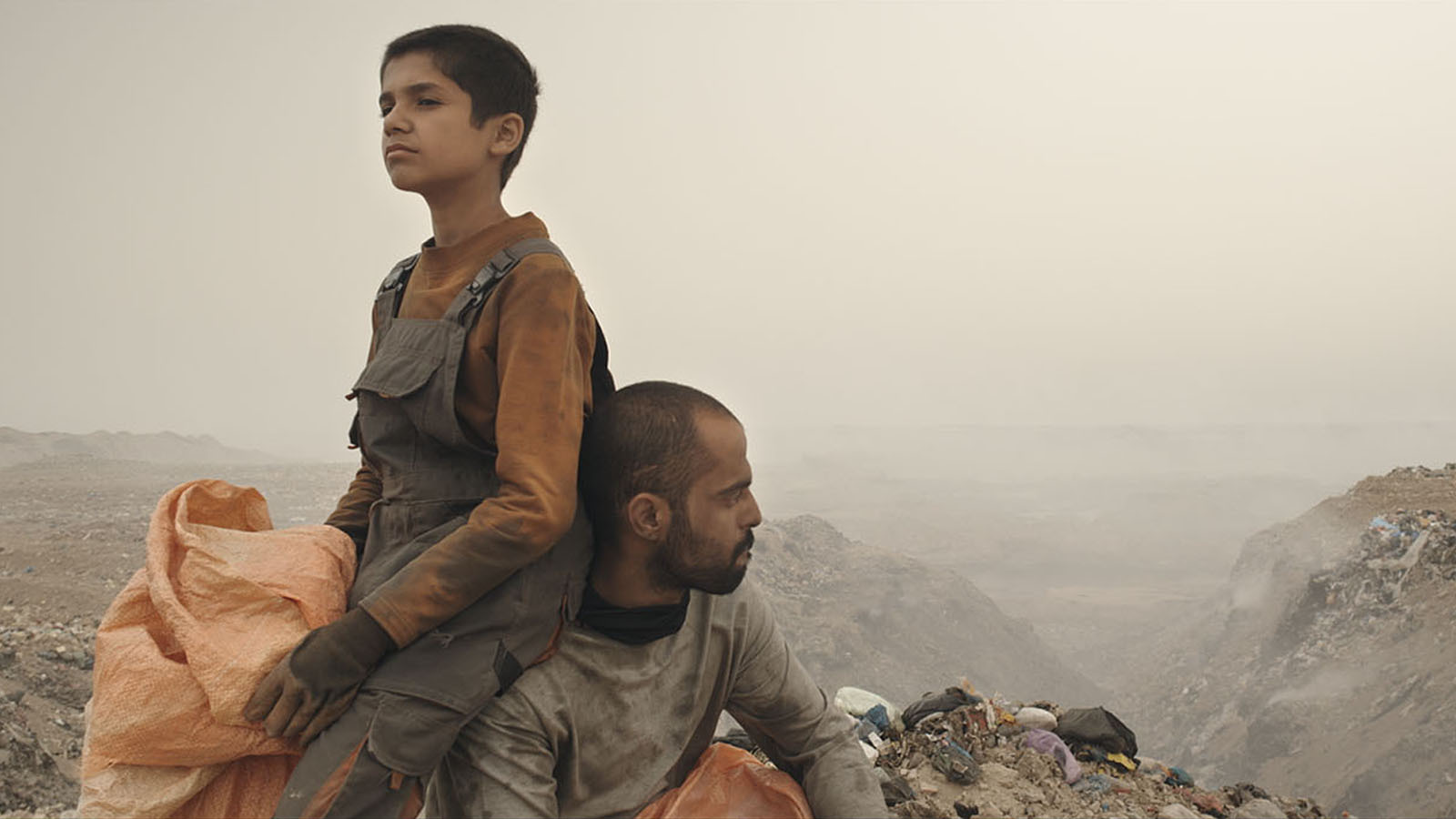 Twelve-year-old orphan As'ad makes his living picking through the trash at a dump outside Baghdad. One day he finds a discarded blonde sex doll, which not only improves his financial prospects, but offers him something of even greater value.
Zoom Q&A with Director Ahmed Yassin Al Daradji.

One of the seven wonders of the ancient world, the Hanging Gardens of Babylon are said to have been a lush and elaborate oasis built near present-day Hillah in Babil province, Iraq. In the film, the name refers, ironically, to a vast and mountainous garbage dump on the outskirts of Baghdad, where orphaned brothers As'ad (Hussain Muhammad Jalil) and Taha scrape a living by picking through trash in hopes of finding something they can sell. One day, As'ad makes a wondrous find of his own—a rubber sex doll clad in a star-spangled bikini, leftover from the American invasion. He adopts the doll, names her Salwah ("comfort," "salvation"), and cleans her up as best he can. When he discovers she can speak, he teaches her Arabic. His friend Amir recognizes lucrative potential and suggests they start renting out the doll to local clientele. As'ad reluctantly agrees, imposing strict rules and time limits on encounters, but despite his best protective efforts, the doll goes missing. Meanwhile, they've run afoul of the local strongman, Al Haji, a noxious blend of religious fundamentalism and criminal activity. Despite the harsh landscape, the film treats its subject with gentleness and humor, thanks in large part to an astonishing performance by the young non-professional actor Jalil. In a truly remarkable feature film debut, director Ahmed Al Daradji has managed to create a poignant portrait of his country and what has befallen it that is also, like the doll in As'ad's eyes, a thing of real beauty.
Original Language Title:

Janain mualaqa

Director:

Ahmed Yassin Al Daradji

Principal Cast:

Wissam Diyaa, Jawad Al Shakarji, Hussain Muhammad Jalil, Akram Mazen Ali

Premiere Status:

North American

Country:

Iraq, Palestine, Saudi Arabia, Egypt, United Kingdom

Year:

2022

Running Time:

117 min.

Producer:

Huda al Kadhimi, Margaret Glover, May Odeh

Screenplay:

Ahmed Yassin Al Daradji, Margaret Glover

Cinematographers:

Duraid Munajim

Editors:

Kamal El Mallakh

Music:

Suad Bushnaq

Website:

Official Film Website

Filmography:

Debut Feature Film

Language:

Arabic

Has Subtitles:

Yes

International Sales:

True Colours Glorious Films