SIFF & CFC Present The Craft with DJ NicFit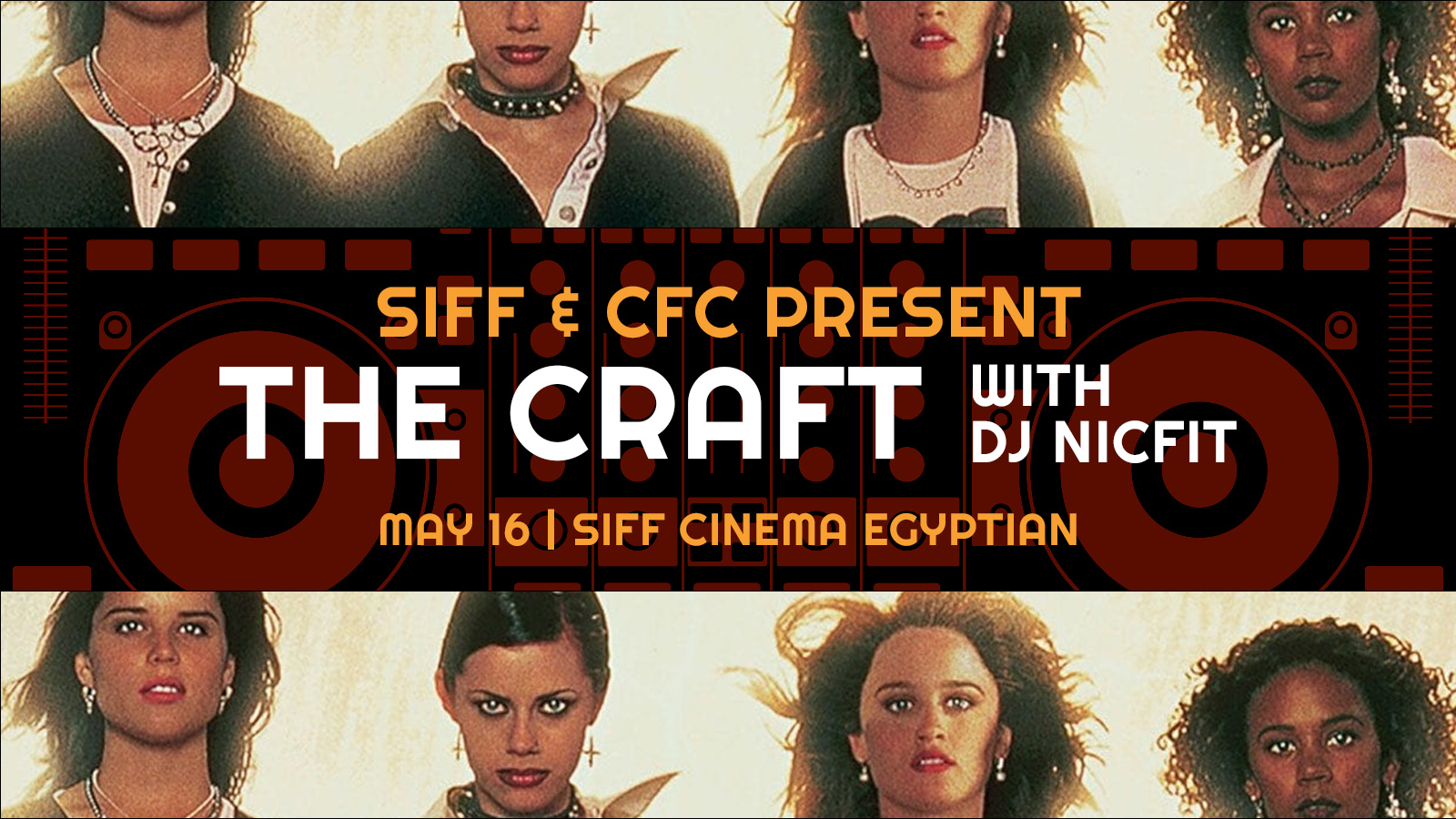 May 16, 2023
Break out your spell books and chokers for a very special presentation of The Craft. This time, Seattle's own DJ NicFit will create a live soundtrack to accompany the 1996 cult classic about a coven of teen witches out for vengeance.
WTF sponsor Scarecrow Video Library will be giving away a swag bag of goodies and physical media to a lucky audience member.
Clueless for the girls who shopped at Hot Topic and played with Ouiji boards, The Craft is a horror cult favorite and a '90s aesthetic time capsule. Influencing everything from fashion editorials and remakes to the introduction of a whole new generation to Wicca and Tarot, the film had (and continues to have) an undeniable cultural impact. Casting a witchy spell on the new-kid-in-town trope, the movie follows Sarah (Robin Tunney) as she attempts to fit in at her new Los Angeles high school. Sarah falls in with a gang of three hopeful teen witches, Bonnie (Neve Campbell), Rochelle (Rachel True), and Nancy (Fairuza Balk), who sense her telekinetic power and convince her to be the important fourth member of their coven. But when the group grows too powerful, the girls' friendship turns perilous and explodes into a nightmarish final showdown. Although we may not have the power to wave a hand and change the color of our hair—or curse the bigoted mean girls to make theirs fall out—The Craft enchants us all the same with its portrayal of female rage, chaotic teen friendships, and the dangerous consequences of getting what you think you want.
—Emalie Soderback
This year, Cross-Faded Cinema (curated by Seattle's own DJ NicFit) returns to the Festival to provide an all-new soundtrack to this cult classic, promising a trippy, ultra-sensory time done live on two turntables. Previous SIFF appearances include the all-Queen soundtrack to Highlander (1986) and infusing 1973's Fantastic Planet with a galaxy's worth of Flaming Lips songs. What will DJ NicFit deem worthy of The Craft for this one-of-a-kind music and film hybrid event?
Director:

Andrew Fleming

Principal Cast:

Fairuza Balk, Robin Tunney, Neve Campbell, Rachel True

Country:

USA

Year:

1996

Running Time:

101 min.

Producer:

Ginny Nugent, Lisa Tornell, Douglas Wick

Screenplay:

Andrew Fleming, Peter Filardi

Cinematographers:

Alexander Gruszynski

Music:

Graeme Revell

Filmography:

Hamlet 2 (2008), Nancy Drew (2007), The In-Laws (2003), Dick (1999), Threesome (1994), Bad Dreams (1988)

Language:

English

US Distributor:

Columbia Pictures