SIFF Announces Five Newly Appointed Members to its Board of Directors
SIFF Press | press@siff.net | Tuesday, January 24, 2023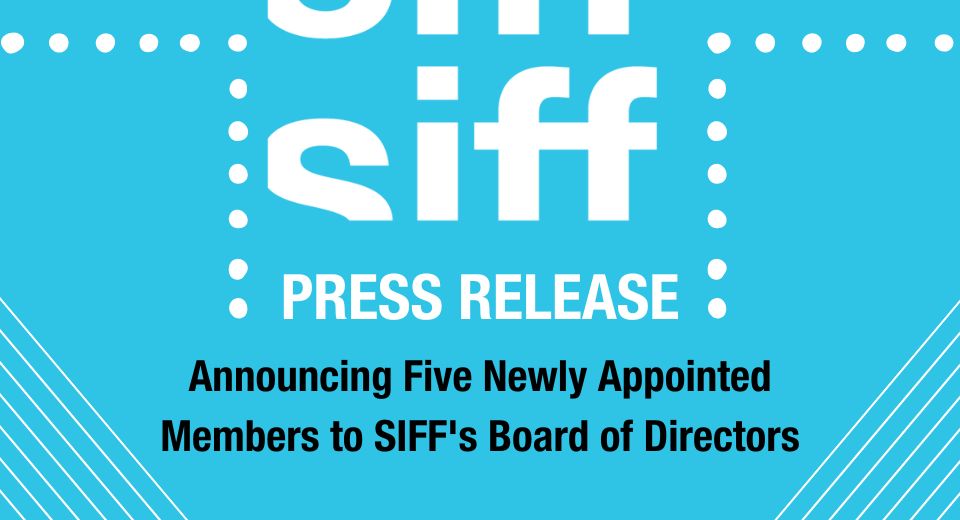 SEATTLE – SIFF announces five new members joining its Board of Directors in the new year. "We are incredibly fortunate to be welcoming five new Directors with passion for SIFF & the unique power of film. Each brings a great set of skills and we look forward to working with them," says SIFF's Board President, Diana Knauf.
Joining the organization and its mission to create experiences that bring people together to discover extraordinary films from around the world are:
Ben Andrews: Founder of The Seattle Film Summit, a yearly conference where writers, directors, producers, and actors can connect with distributors, acquisition executives, talent agents, attorneys, festival directors, and others who provide services to the motion picture industry.
Kate Becker: Creative Economy Director at Office of King County Executive,Harbor Island Film Studios Project, former head of Office of Film and Music for City of Seattle & Co-founder of the Vera Project.
Jerry Chiang: General Counsel at Distrokid, Current Board Member at KEXP, former Board Member at One Reel and the Vera Project & co-owner of the Crocodile Cafe.
Carolyn Douglas: Regional Communications & Outreach Manager for Western Governors University, owner of Carolyn Douglas Communications, & former KING 5 on-air reporter and news anchor.
Virl Hill: Microsoft Media & Entertainment Business Development & Strategy, member of the Television Academy and the Recording Academy, formerly CEO Blade Games World, General Manager roles at Rollingstone.com, Rhapsody and RealNetworks and strategic planning leader at Disney.
"I want to express my gratitude to two experienced people ending their terms with the SIFF Board of Directors, Donna James and Sheree Wen," Knauf adds.
Moving into 2023, the Board of Directors priorities will be focused on driving awareness and attendance at SIFF's upcoming 49th Annual Seattle International Film Festival on May 11-28, 2023, year-round Cinema, Education Programs, and more

# # #

Press Contact:For more information, images, event access, or to schedule an interview, please contact Madison Zimmerman at press@siff.net or (206)-315-0692.

About SIFF:
Known for the international festival that takes place in the late spring each year, SIFF has delighted moviegoers for more than 47 years with films from all regions of the world, fostering an informed, aware, and vibrant community of film lovers. SIFF offers year-round arthouse screenings, curated mini-festivals, cinema events, and educational programs—to keep up with us, visit Siff.net and find SIFF on Instagram, Twitter, Letterboxd, and Facebook.