SIFFRAFF Selects: What's Up, DocFest?
Thursday, September 16, 2021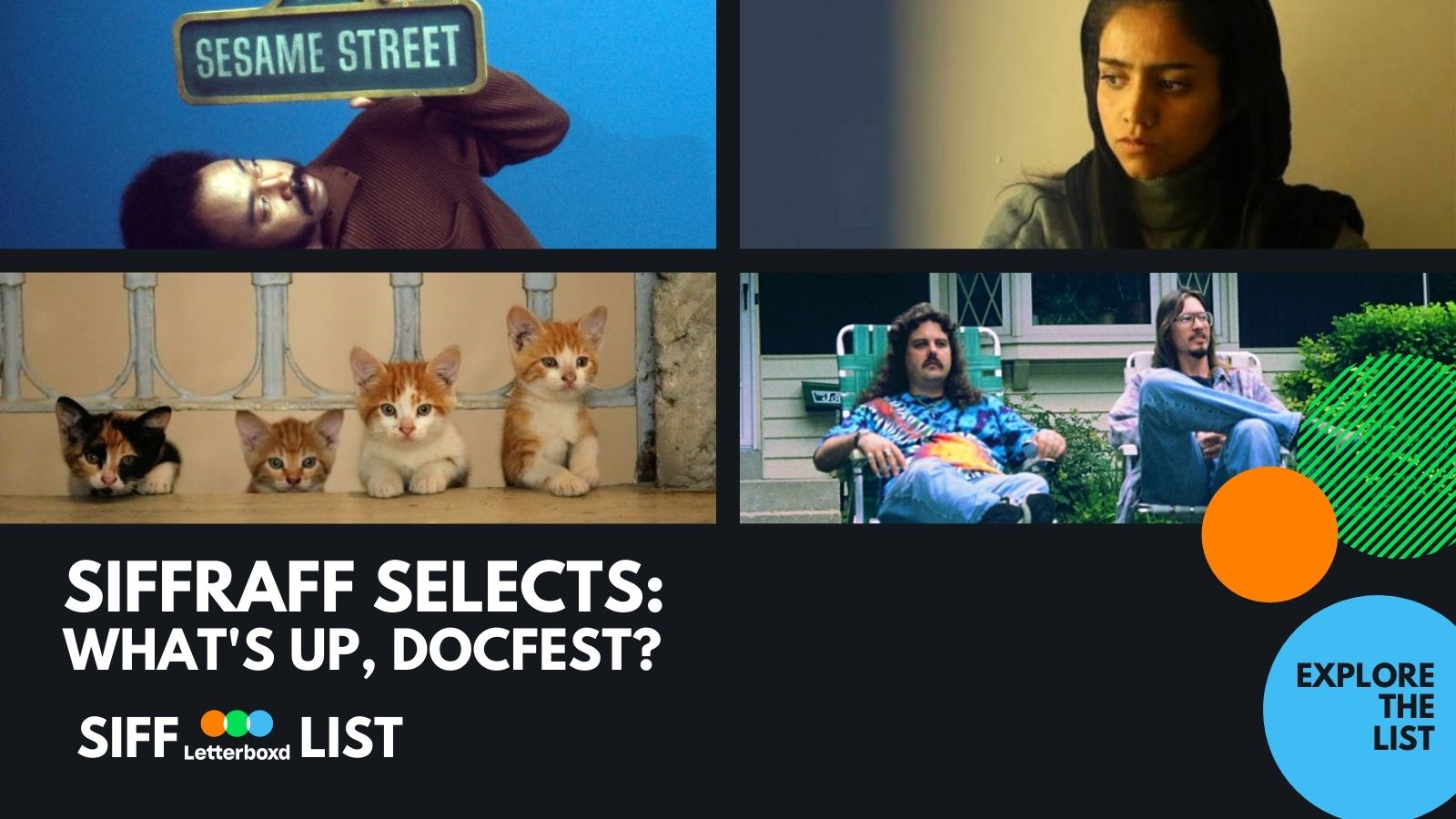 The SIFF staff—also known as "SIFFRAFF"—are so delighted by our upcoming DocFest that we decided to create a list of our favorite documentaries. It's a hearty and hardy variety of subjects about politics, pop stars, peculiar people, and plenty more.
13th
(Ava DuVernay, 2016)
"No other film has ever impacted me so greatly, opened my eyes, and forever changed me."
—Erin Ashley, Devo Events Contractor
The Act of Killing
(d. Joshua Oppenheimer, 2012)
"It is a documentary unlike any I have ever seen. Chilling, inventive, horrifying, eye-opening, and disturbing on every level, but also full of the truth for many people that face this history every day."
—Beth Barrett, Artistic Director
American Movie
(d. Chris Smith, 1999)
"'Is that what you wanna do with your life? Suck down peppermint schnapps and try to call Morocco at two in the morning? That's senseless! But that's what happens, man.'
The most quotable doc of the past 25 years, and one of the most uncomfortably relatable. Any microbudget movie or fringe theatre show I see, I immediately think of American Movie."
—Marcus Gorman, Festival Programmer & Festival Publications Coordinator
"I met Mark Borchardt at a horror film festival in the early 2000's and got to talk to him about movies. This documentary is a window into filmmaking, living in the Midwest in the 90s, and being inspired to do what you love. It's a snapshot in time that came be recreated. American Movie is something to cherish."
—Colleen O'Holleran, Festival Programmer, WTF
Billie Eilish: The World's a Little Blurry
(d. R.J. Cutler, 2021)
"In my honest and humblest opinion, Billie Eilish is one of the most interesting creatives the 21st century has produced. This documentary explores her je ne sais quoi in a way that proves her status as a wunderkind, from her collaboration with her brother in shaping emotional music and lyrics to expressing her vision through performance."
—Shelby Smout, Digital Marketing & Social Media Associate
Dark Days
(d. Marc Singer, 2000)
"An exploration of a homeless community in the mid-'90s living in an abandoned section of the New York City subway system, shot partly by the subjects themselves on 16mm black and white film. The fascinating topic, striking cinematography, and score by DJ Shadow makes this hands down almost always my immediate answer to 'what's your favorite doc?'"
—Clare Canzoneri, Digital Marketing Manager
Dick Johnson Is Dead
(d. Kirsten Johnson, 2020)

"What makes Kristen Johnson's Dick Johnson Is Dead so remarkable is that it defies description. It's a grief poem and an ode; it's morbidly cruel, and achingly sweet; it's steeped in harsh realities and in speculative fantasies. My selection of it as a 'favorite' is guilty of both recency bias and what is resonating at this precise moment in my life, as I witness my own elderly father's decline. Less morbid but equally evocative on a similar subject is S. Leo Chiang and Yang Sun's Our Time Machine."
—SuJ'n Chon, Festival Programmer
Hoop Dreams
(d. Steve James, 1994)
"On one level, it's a documentary about two inner-city Chicago boys who struggle to become college basketball players as they chase their basketball dream. On another level, it's about race and class in our society, and how tenuous it can be for families to achieve the basic American dream."
—Patrick Graham, Box Office & Customer Service Manager
Kedi
(d. Ceyda Torun, 2016)
"For the beauty and majesty that is Istanbul...said only one person ever. To quote Andrew Lloyd Webber, 'it's about cats,' and this documentary brilliantly illustrates how humans and cats have evolved to live in near-perfect symbiosis even if neither species has been fully successful in their efforts to domesticate the other."
—Dan Doody, Festival Programmer
Sonita
(d. Rokhsareh Ghaemmaghami, 2015)
"Beyond the incredible story of Sonita's overwhelming desire to become the first female rapper in Iran, a country where the very act of her singing is a crime, this film is a master class in the ethics of filmmaking vs. basic human compassion. Her talent, her determination, and the no-win circumstances trying to avoid a forced marriage make for a complex and gorgeous story that has stayed with me since I saw it at SIFF in 2015."
—Julie LaLuna, Director of Finance
Style Wars
(d. Tony Silver, 1983)
"If you want to watch a great snapshot of underground graffiti/hip-hop culture in early 1980s NYC as it explodes into the mainstream, 'THIS IS IIIIIIIIIIIIIIIIIIIT!!!'"
—Mark Allender, Technical Manager
Tickled
(d. David Farrier, Dylan Reeve, 2016)
"What a rollercoaster ride! Don't read anything about this film and prepare to be blown away."
—Carley Callahan, Festival Producer
Stories We Tell
(d. Sarah Polley, 2012)
"All my favorite films are ones that take me by surprise, leading me somewhere that I never expected to go. Sarah Polley's doc starts out as a lovely, intimate look at her parents, but transforms into a fascinating mystery halfway through, and becomes one of my favorite films by the end."
—Stan Shields, Programming Manager
Street Gang: How We Got to Sesame Street
(d. Marilyn Agrelo, 2021)
"Tough to narrow down my favorite of all time but this has been my favorite this year. I loved seeing how a show that shaped so many of our lives came into being."
—James Davis, Festival Programmer
The Other Side of Everything
(d. Mila Turajlić, 2017)

Big vs. Small
(d. Minna Dufton, 2020)
"At the heart of both documentaries (which are very different) is a unique relationship between two women—in Big vs. Small it's the relationship between a champion big wave surfer and a champion free diver; in The Other Side of Everything it's the relationship between filmmaker daughter and activist mother. These relationships both drive the story engines, but also speak to me with great emotional veracity, an authenticity really, that can be sometimes hard to find in documentaries."
—Kathleen McInnis, New Works-In-Progress Forum Curator
---
Get more information and tickets for SIFF DocFest (Sep 30–Oct 7) at siff.net/docfest.
Follow us on Letterboxd for more lists like these.