The Shape of Water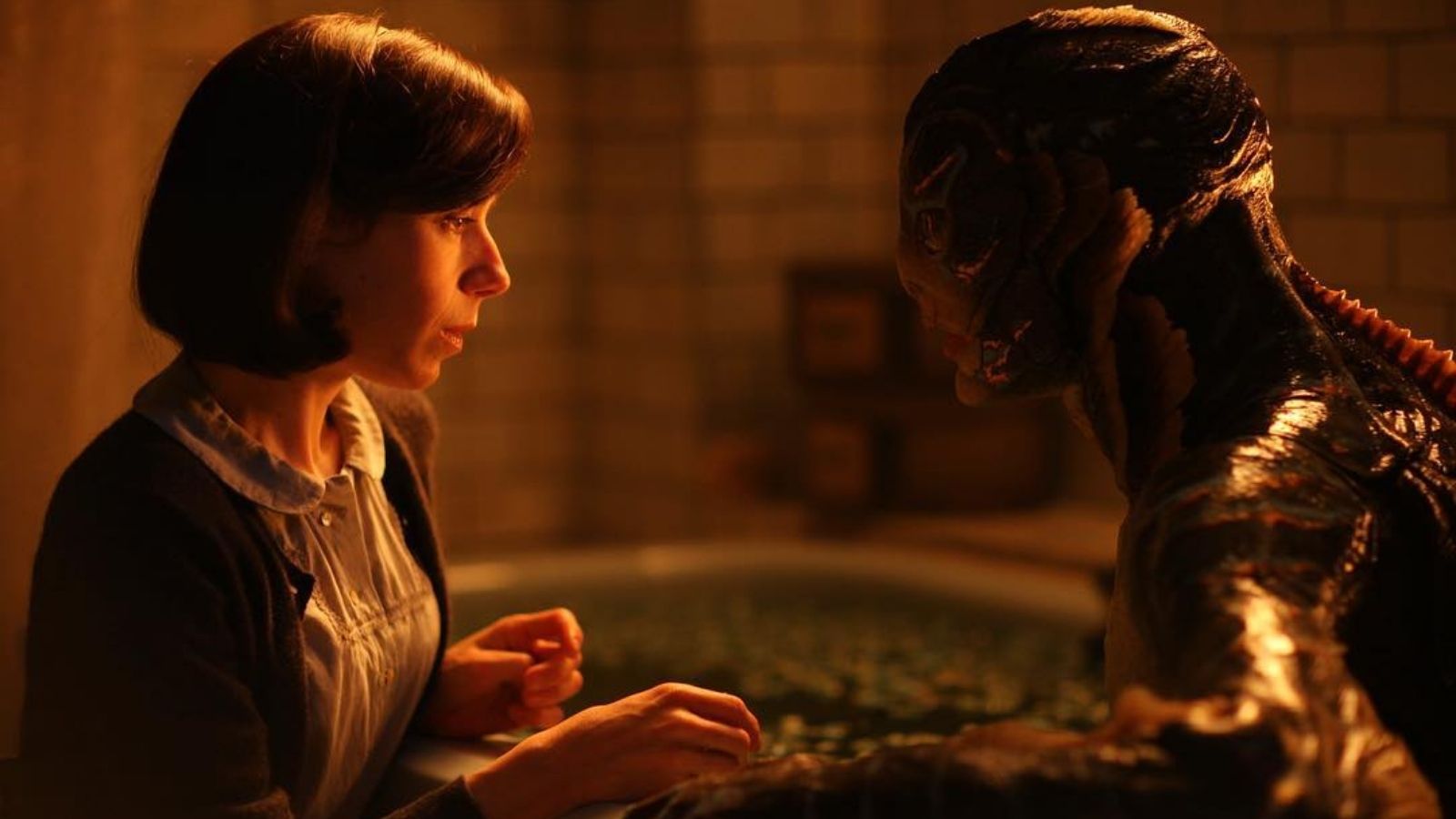 August 25, 2022
Auteur August: Guillermo del Toro
At a top secret research facility in the 1960s, a lonely janitor forms a unique relationship with an amphibious creature that is being held in captivity.
Passes are available for each director's weeklong series, as well as ticket 6-packs which can be used for any Auteur August film (regardless of director).
Drawing on classic 1950s sci-fi B-movies and the on-going fascination with Area 51 conspiracy theories, Guillermo del Toro's sprightliest tale of the inexplicable is an old-school cinematic joy. At the height of the Cold War, in a secret US laboratory, a young, mute woman begins to communicate with a strange, aquatic creature. Elisa (Sally Hawkins), whose only friends are her gay artist neighbour (Richard Jenkins) and a fellow cleaner (Octavia Spencer), is alarmed by the behaviour of research head Strickland (a deliciously cruel Michael Shannon), who sees the creature as nothing more than an oversized lab rat. A fellow scientist (Michael Stuhlbarg) of dubious connections is decidedly more curious, especially when he sees a bond forming between Elisa and the creature. Intertwining sci-fi, horror, and gothic romance to spellbinding effect, del Toro's singular vision is enhanced by Dan Laustsen's (Crimson Peak) vivid cinematography and Alexandre Desplat's hypnotic score, which runs the gamut from high-wire thrills to the stirringly romantic. Hawkins, always the most empathetic of actors, is a marvel and she ensures that Elisa's fierce desire to fight for what's right never eclipses her sense of innocence. Love takes many shape-shifting forms and this intoxicating film is a pure celebration of tolerance and human connection.
Director:

Guillermo del Toro

Principal Cast:

Doug Jones, Sally Hawkins, Michael Shannon, Michael Stuhlbarg, Octavia Spencer

Country:

USA

Year:

2017

Running Time:

123 min.

Producer:

J. Miles Dale, Guillermo del Toro

Screenplay:

Guillermo del Toro, Vanessa Taylor

Cinematographers:

Dan Laustsen

Music:

Alexandre Desplat

Awards:

BAFTA 2018 (Best Director Guillermo del Toro), BAFTA 2018 (Music Alexandre Desplat), BAFTA 2018 (Production Design Paul Austerberry, Jeff Melvin, Shane Vieau), LA Film Critics Association 2017 (Best Director), LA Film Critics Association 2017 (Best Actress), LA Film Critics Association 2017 (Best Cinematography)

Language:

English, ASL

US Distributor:

Fox Searchlight Pictures