Movie Club: Funeral Parade of Roses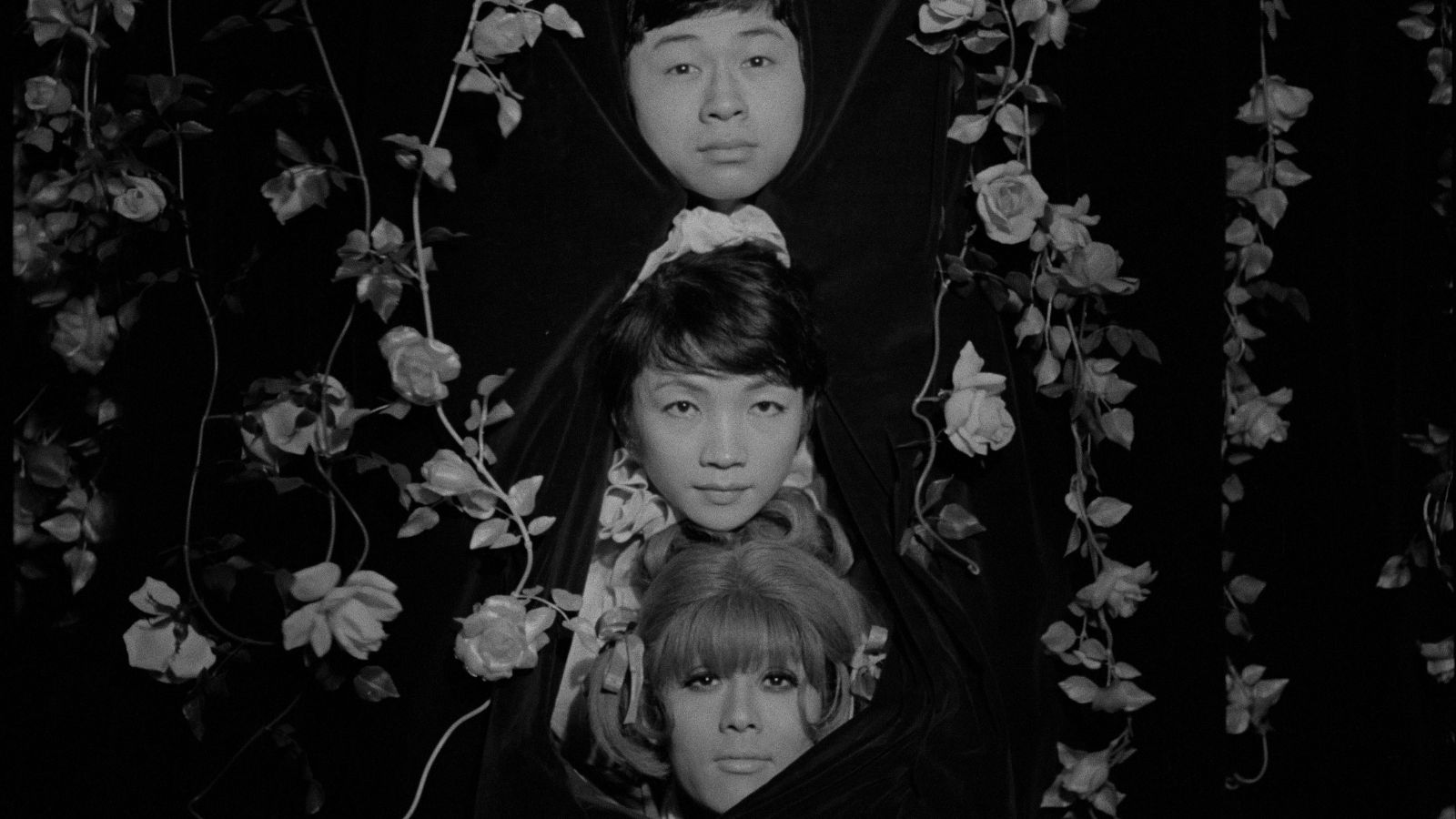 August 2, 2023
In this loose adaptation of Oedipus Rex, we will journey to 1960s Tokyo and experience the life of a young transgender woman named Eddie. We will don our best skirts and skip around timelines and experiences, from gay bars and underground art theaters to hair salons and bedrooms. Come see why this film inspired Kubrick's A Clockwork Orange and is considered a cornerstone of Japanese New Wave cinema.
Selected and introduced by SIFF Graphic Design Manager (and Queer Cinema aficionado) Reese Iliakis.
Tickets: $10 ($5 SIFF members)
Tickets
Select showtime for pricing and tickets.
Wednesday, August 2, 2023
Director Toshio Matsumoto's shattering, kaleidoscopic masterpiece is one of the most subversive and intoxicating films of the late 1960s: a headlong dive into a dazzling, unseen Tokyo night-world of drag queen bars and fabulous divas, fueled by booze, drugs, fuzz guitars, performance art and black mascara. No less than Stanley Kubrick cited the film as a direct influence on his own dystopian classic A Clockwork Orange. An unknown club dancer at the time, transgender actor Peter (from Kurosawa's Ran) gives an astonishing Edie Sedgwick/Warhol superstar-like performance as hot young thing Eddie, hostess at Bar Genet — where she's ignited a violent love-triangle with reigning drag queen Leda (Osamu Ogasawara) for the attentions of club owner Gonda (played by Kurosawa regular Yoshio Tsuchiya, from Seven Samurai and Yojimbo). One of Japan's leading experimental filmmakers, Matsumoto bends and distorts time here like Resnais in Last Year at Marienbad, freely mixing documentary interviews, Brechtian film-within-a-film asides, Oedipal premonitions of disaster, his own avant-garde shorts, and even on-screen cartoon balloons, into a dizzying whirl of image + sound.
Whether laughing with drunken businessmen, eating ice cream with her girlfriends, or fighting in the streets with a local girl gang, Peter's ravishing Eddie is something to behold. "She has bad manners, all she knows is coquetry," complains her rival Leda – but in fact, Eddie's bad manners are simply being too gorgeous for this world. A key work of the Japanese New Wave and of queer cinema, Funeral Parade has been restored in 4K from the original 35mm camera negative and sound elements.
Original Language Title:

Bara no sōretsu

Director:

Matsumoto Toshio

Principal Cast:

Peter, Ogasawara Osamu, Tsuchiya Yoshio, Azuma Emiko, Uchiyama Toyosaburo, Nakamura Koichi, Kobayashi Chieko

Country:

Japan

Year:

1969

Running Time:

105 min.

Producer:

Mitsuru Kudo, Keiko Machida

Screenplay:

Matsumoto Toshio

Cinematographers:

Suzuki Tatsuo

Editors:

Iwasa Toshie

Music:

Yuasa Jôji

Language:

Japanese

Has Subtitles:

Yes

International Sales:

Arbelos Films