Movie Club: The Virgin Suicides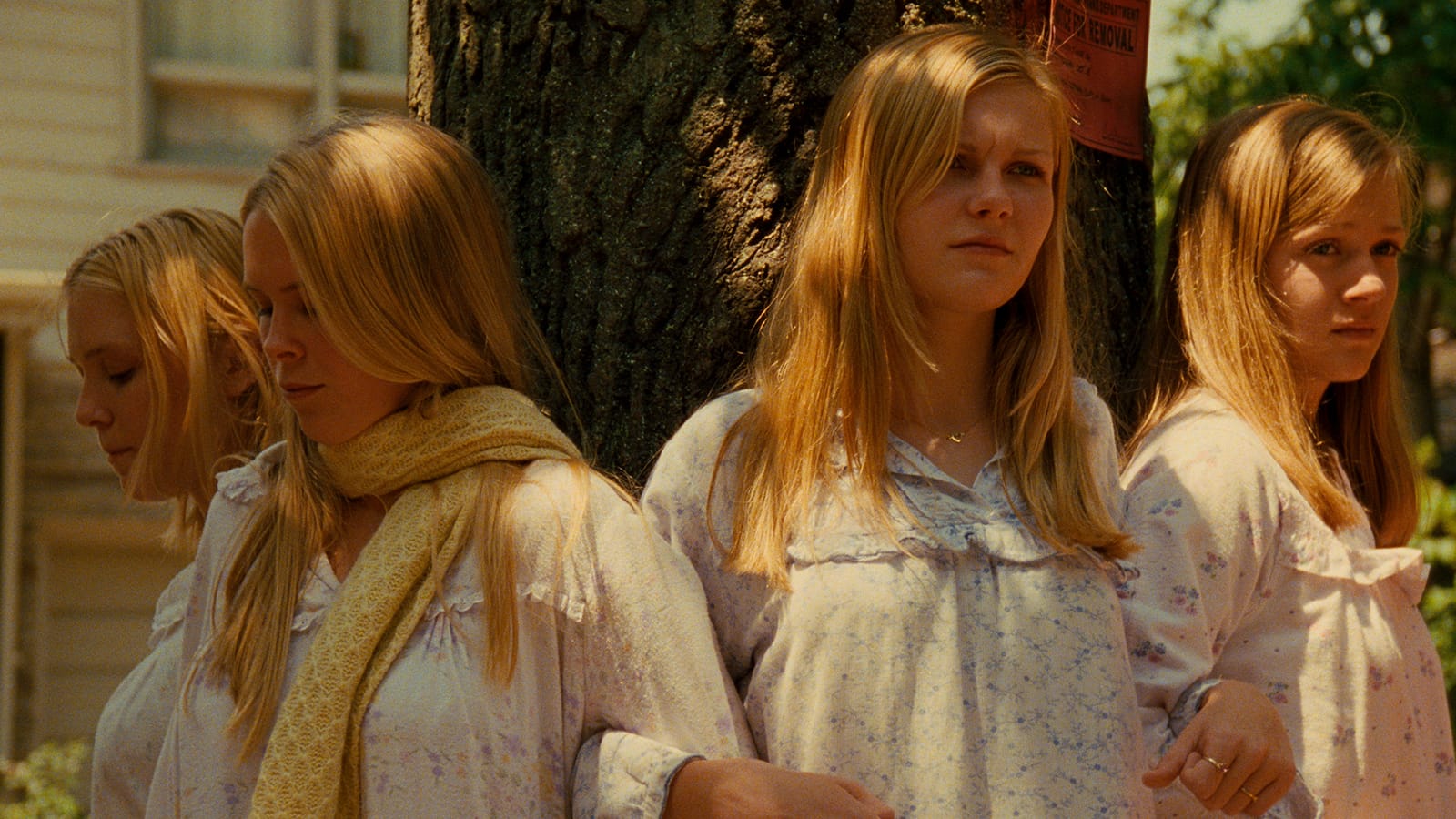 September 6, 2023
It's Back-to-(Cinema)-School time with Movie Club, presenting Sofia Coppola's 1999 The Virgin Suicides. Based on the novel by Jeffery Eugenides, the film explores the emotional underpinnings of a family starting to come apart at the seams in 1970's Midwestern America. Starring Kirsten Dunst, Kathleen Turner, and James Woods, with a stellar soundtrack and score by French music duo Air.
Selected and introduced by SIFF Associate Director Digital Marketing Clare Garvin (who was once a 13-year-old girl).
Tickets: $10 ($5 SIFF members)
The Lisbons seem like an ordinary enough family; Father (James Woods) teaches math at a high school in Michigan, Mother (Kathleen Turner) has a strong religious faith, and they have five teenage daughters, ranging from 13-year-old Cecilia (Hannah Hall) to 17-year-old Therese (Leslie Hayman). However, the Lisbon family's sense of normalcy is shattered when Cecilia falls into a deep depression and attempts suicide. The family is shaken and Mother and Father seek the advice of psychiatrist Dr. Hornicker (Danny DeVito), who suggests the girls should be allowed to socialize more with boys. However, boys soon become a serious problem for Cecilia's sister Lux (Kirsten Dunst). Lux has attracted the eye of a high-school Romeo named Trip (Josh Hartnett), who assures Father of his good intentions. But Cecilia finally makes good on her decision to kill herself, throwing the Lisbons into a panic; and after attending a school dance, Trip seduces and then abandons Lux. The Lisbons pull their daughters out of school, as an emotionally frayed Mother keeps close watch over them. Meanwhile, Lux continues to attract the attentions of the local boys, and she responds with a series of clandestine sexual episodes with random partners as often as she can sneak out of the house.
Director:

Sofia Coppola

Principal Cast:

Kirsten Dunst, Kathleen Turner, James Woods, Danny DeVito

Country:

USA

Year:

1999

Running Time:

97 min.

Producer:

Francis Ford Coppola, Julie Costanzo, Dan Halsted, Chris Hanley

Screenplay:

Sofia Coppola

Cinematographers:

Edward Lachman

Editors:

Melissa Kent, James Lyons

Music:

Air

Language:

English