Thanksgiving Filmmaking Camp at LANGSTON
Black youth aged 9–12 will create short films in just three days.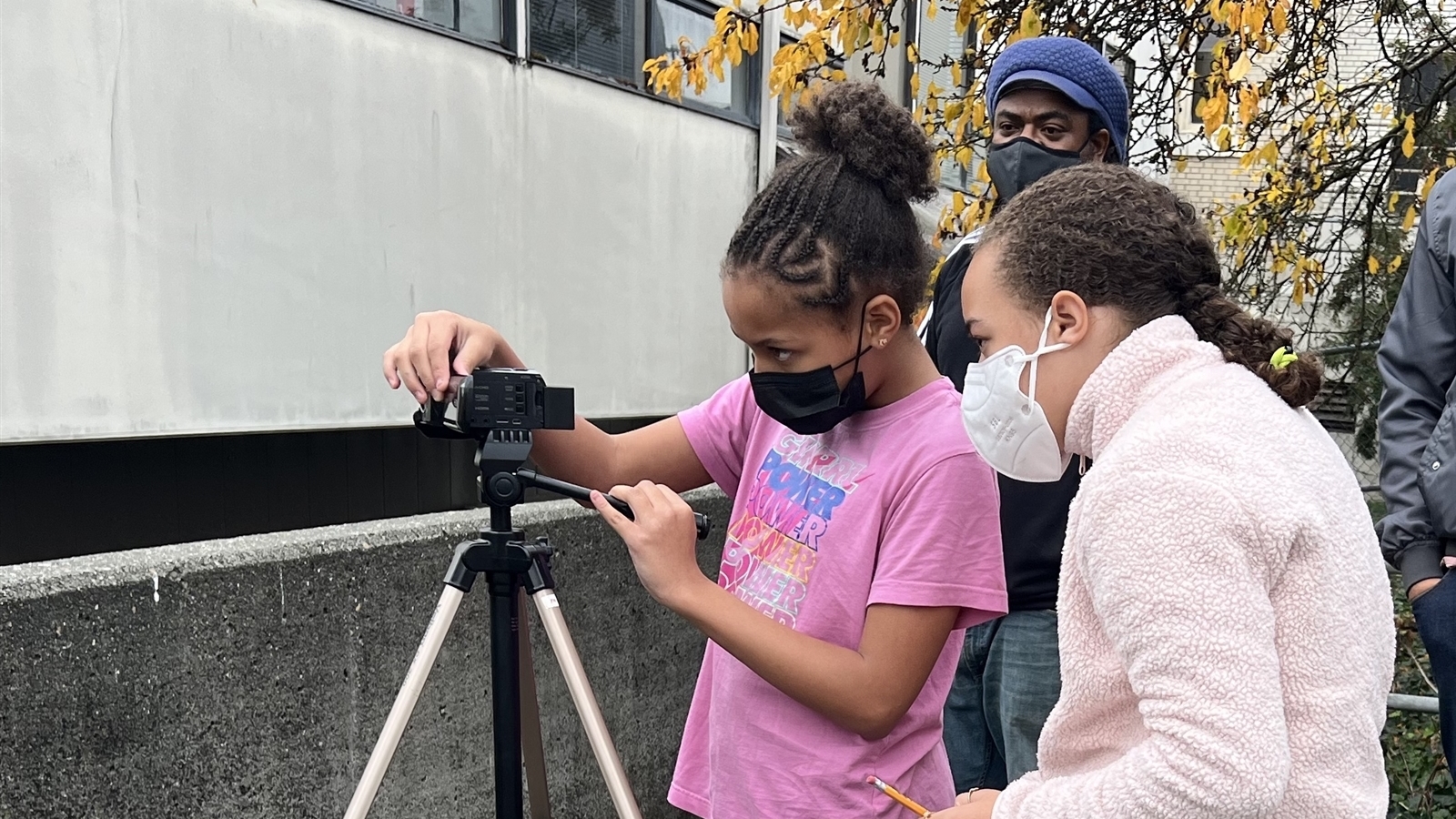 November 22 - 24, 2021
Create a few short films in just three days! In small groups of three to six, Black film students (aged 9-12) will practice storytelling techniques while learning the basics of working together as a movie crew, writing scripts, directing actors, using accessible filmmaking technology, and digital editing.
Monday, November 22–Wednesday, November 24
9:30am–5:30pm
Langston Hughes Performing Arts Institute (104 17th Ave S, Seattle, WA 98144)

Students apply to be a part of this FREE filmmaking program, a co-presentation by LANGSTON and SIFF. There are expected to be 20–25 confirmed students for the program and any who complete all three sessions will be paid a $100 stipend upon conclusion.
MORE DETAILS
Youth will practice the art of storytelling and learn to bring their ideas to life, creating short films around culturally appropriate themes based on historical figures of the central district and specific social justice issues from the community. On the final day, we will world premiere all the finished films at Langston Hughes Performing Arts Institute with family and friends. Finished films will be able to be viewed online or downloaded to share with as many people as you'd like.
This Filmmaking Camp is taught by a professional film educator and a group of filmmaking mentors. Students will get a comprehensive experience creating several short films and learning new storytelling techniques.
All equipment is provided. Students just need to bring a morning snack, a sack lunch, and their creativity for each day of the camp. A light nutritious afternoon snack will be served.
ABOUT LANGSTON
SIFF collaborates with LANGSTON on this and other programs, supporting their mission to strengthen and advance our community through Black arts and culture. LANGSTON was created in response to both the community and City's desire to support the historic mission of Langston Hughes Performing Arts Institute. LANGSTON was conceived and designed by community members to serve as the hub for African American arts and culture in Seattle.
COVID SAFETY PROTOCOLS
LANGSTON and the building partners at the Langston Hughes Performing Arts Institute have adopted protocols to ensure the safety of our staff and guests while in our building.
Masks are required for everyone, at all times while inside the building; except when eating/drinking
Per state mandate, full vaccination or a negative PCR test taken within 72 hours is required for anyone over the age of 12 entering the building
Regular hand-washing will be encouraged throughout the day
Hand sanitizer is available throughout the building
All rooms and surfaces are disinfected before and after use and sanitizer wipes are available for immediate use when needed
During the workshops, some activities and meals will be outside to allow for additional distancing and fresh air ventilation, weather permitting
If at any point you or your child become ill or experience any symptoms of COVID-19, please notify us immediately and stay home. Symptoms of COVID-19 include:
Fever or chills
Cough
Fatigue
Headache
Sore throat
Nausea or vomiting
Congestion or runny nose
Diarrhea
New loss of taste or smell
Muscle or body aches
Difficulty breathing
As we continue to follow all city and state guidance, we will immediately notify all registrants of any changes or cancellations due to potential capacity restrictions or phase rollbacks.
Contact info@langstonseattle.orgwith questions.