Volunteer Recognition
Thank you to our volunteers for making SIFF 2023 possible!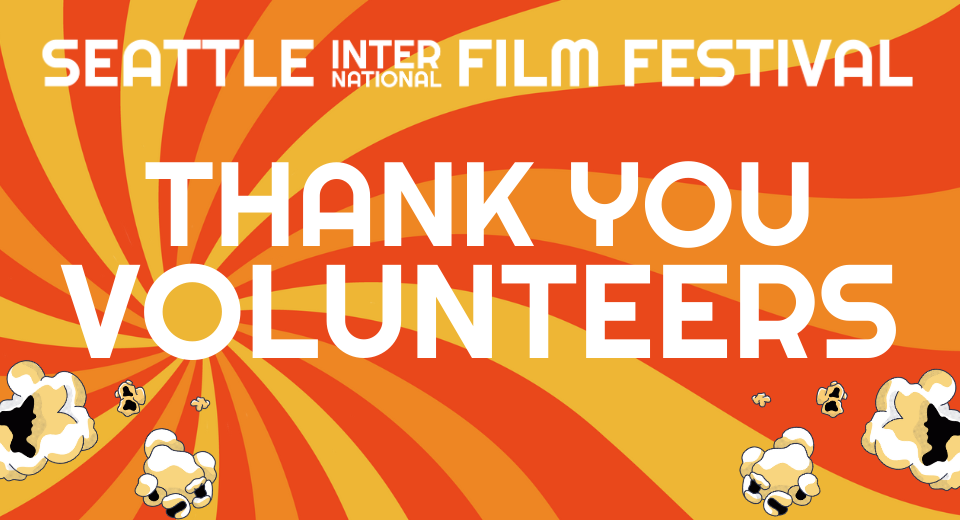 Please join SIFF in honoring our year round volunteers and 2023 SIFF volunteers for their incredible work at the 49th Seattle International Film Festival! The festival would not be possible without their patience, commitment, and excitement.
We would like to acknowledge our top honorees:
2023 Mark Morey Hours of Service Award winner Deborah Rustin

for 90 Hours of Festival Volunteer Service

2023 Eric Sorlien Exemplary Service Award recipient Wayne Severson

for outstanding contribution and dedication
As well as give special thanks to our:
45+ Hour Awardees
Paul Bullard, Selena Calacat, Gisela Casa Madrid, Laura Cecil, Emily Chan, Alan Grenon, Justin Kerwin, Denise Kivlen, Dustin Koontz, Kim McGillivray, Linda Patterson, Caitlin Pennington, Will Petscher, Jennie Rio, Deborah Rustin, Dan Sakaue, Wayne Severson, Patrick Sheehan, Eric Sorlien, Jinny Weintraub, Patricia Yano, Marietta Zintak
30+ Hour Awardees
Ani Barua, Alex Belleba, Robert Binney, Siggy Bohannattrawn, Greg Browne, Suk Chan, John Chaney, Jean Chang, Stanley Choi, Bryce Erlandson, Shivani Ghatge, Maya Gopalan, Emily Harris, Jules Jagsich, Cynthia Konecny, Justin Lerner, Dylan Lockard, Froilan Lorais, Patreese Martin, Naoko Oguchi, Kevin Raleigh, Sophia Thomas, Deborah Uno
15+ Hour Awardees
Michael Ah Tou, Hilda Allum, Richard Arum, Alan Austen-White, Fiona Ayres, Michelle Bagley, Patricia Bannister, Haley Baumberger, Grace Block, Thomas Blodgett, Ryan Bordow, Theresa Boslaugh, Beth Braun, Celeste Broderick, Marie Cermak, Elizabeth Chan, Paul Chiocco, Garrett Cline, David Cook, Eva Cooperman, Kat Corcoran, Ryan Derian, Jill Devenport, John Dickson, De Dih, Nicolle Divito, Darcy Drysdale, Wylie Duarosan, Larry Dunlap, Lesha Ewers, Peggy Foster, Leslie Frick, Roger Frick, Taylor Graw, Autumn Grindle, Gabriel Gutierrez Morales, Morgan Hancock, Dennis Harris, Kerri Hill, Leslie Hobbs, Ann Hoffman, Lindsey Hummel, Noelle Jeanminette, Tiffany Johnson, Isaac Kenta Kawachi, Mark Konecny, Lisa Laurente, Kevin Lin, Valerie Lopez, Celia Major, Ben Melby, Leslie Miller, Judith Miller, Ray Misra, Sameehita Mohan, Maegan Mulligan, Todd Newman, Dave Obrien, Katie Parker, Andres Pineda, Ashley Podplesky, Becky Rice, Iris Rosechild, Josh Russell, Susana Sawrey, Damon Sims, Peggy Solan, Ziyue Song, Nancy Strom, Daniel Strommen, Mindi Tambellini, Diane Tepfer, Deepthi Thangaraj, Lauren Tucker, Jacqueline Volin, Andrew Volk, Ray Wang, Victoria Watts, Aaron Wheeler, Fredrika Witt, Karl Woelfer, Jessica Sills, Ruby Wishnietsky, Sarah Sheplock
Thank you again for making SIFF possible!