Volunteer Recognition
Thank you to our volunteers for making SIFF 2023 possible!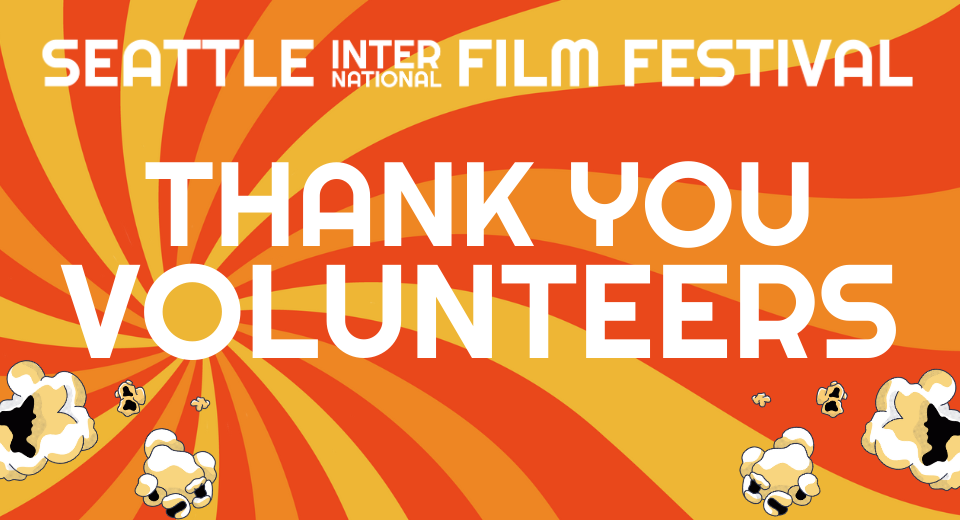 Please join SIFF in honoring our year round volunteers and 2023 SIFF volunteers for their incredible work at the 49th Seattle International Film Festival! The festival would not be possible without their patience, commitment, and excitement.
Special thanks to:
Nicole Acosta
Jamila Adams
Michael Ah Tou
Manuel Alba
Donald Alcala
Hilda Allum
Hannah Angely
Amy Aranow
Richard Arum
Ren Auletta
Alan Austen-White
Jvonshay Austen-White
Zyatah Averiett
Angela Ayres
Cecilia Ayres
Fiona Ayres
Stephen Ayres
Michelle Bagley
Patricia Bannister
Carla Barrick
Jessica Bartel
Ani Barua
Peter Bateman
Lucy Bauer
Haley Baumberger
Reed Belk
Alex Belleba
Robert Binney
Brandon Block
Grace Block
Anna Block Gallegos
Ron Bloom
Siggy Bohannattrawn
Ruben Bojorquez
Ryan Bordow
Theresa Boslaugh
Beth Braun
Shaun Brennan
Michelle Brito
Celeste Broderick
Marian Bromm
Kathleen Brooks
Wes Brown
Greg Browne
Kathy Buchanan
Carla Bujnowski
Paul Bullard
Selena Calacat
Grace Carlson
Patrice Carroll
Joel Carsley
Gisela Casa Madrid
Laura Cecil
Marie Cermak
Elizabeth Chan
Emily Chan
Suk Chan
John Chaney
Jean Chang
Sergio Chaparro
Charlotte Chase
Jean Chen
Frank Chinn
Stanley Choi
Leslie Chui
Rae Clark
Dacia Clay
Garrett Cline
Marian Cole
Jeanne Conley
David Cook
Eva Cooperman
Kenny Cooperman
Kat Corcoran

Pamela Cox
Elora Das
Alan Daugherty
Tyler Davis
Ryan Derian
Jill Devenport
Rita Dias
John Dickson
De Dih
Nicolle Divito
Allison Do
Ceara Donovan
Diane Driscoll
Kerry Driscoll
Darcy Drysdale
Wylie Duarosan
Rebecca Dugopolski
Larry Dunlap
Tony Eans
Brittney Elder
Bryce Erlandson
Marilyn Evans
Lesha Ewers
Nadim Fattaleh
Nate Fieldson
Kenneth Foster
Peggy Foster
Leslie Frick
Roger Frick
Shivani Ghatge
Maya Gopalan
Melissa Goshe
Richard Gough
Taylor Graw
Beckett Gray
Brianna Green
Alan Grenon
Autumn Grindle
Ying Guo
Gabriel Gutierrez Morales
Scott Haddlesey
Morgan Hancock
Sara Hanneman
Dennis Harris
Emily Harris
Daniel Heintz
Donald Henning
Tucker Hensen
Valeria Hesse
Heather Hilbig
Kerri Hill
Jim Hitter
Patricia Hoban
Leslie Hobbs
Diana Hoffer
Ann Hoffman
Mccall Hunter
Reese Hutchison
Etsu Ihara
Ismael Ismail
Jules Jagsich
Christina James
Jack Jamieson
Noelle Jeanminette
Johnny Jeans
Mary Jiang
Tiffany Johnson
Stephanie Jordan
Kevin K
Katie Kaler
Robert Kaminski
Amanda Kaniclides
Isaac Kenta Kawachi
Justin Kerwin

Denise Kivlen
Joshua Koh
Cynthia Konecny
Mark Konecny
Dustin Koontz
Sudharsan Kumar
Jackson Kutilek
Burak Kutlu
Guilhem Lagarde
Lisa Laurente
Andrew Lee
Ryan Lee
Chris Lemig
Raymond Leonard
Justin Lerner
Ellen Levitt
Jannie Li
Kevin Lin
Zili Lin
Colin Loberg
Lauren Lonergan
Valerie Lopez
Froilan Lorais
Kelly Lyles
Bernard Mann
Patreese Martin
Erin Mcandrew
Cheryl Mcevoy
Kim McGillivray
Carla McLean
Ben Melby
Judith Miller
Kristin Miller
Leslie Miller
Taylor Minter
Ray Misra
Sameehita Mohan
Blanca Morales
Aditi Mukherji
Maegan Mulligan
Janice Nacion
Allison Nelson
Todd Newman
Jan Ng
Charlotte Nguyen
Haley Novander
Matt O'Donnell
Dave Obrien
Justice Ofosu
Naoko Oguchi
Marie Oppenheim
Katie Parker
Linda Patterson
Caitlin Pennington
Will Petscher
Andres Pineda
Soline Plichta
Ashley Podplesky
Danielle Posadas
Julie Poullet
Archana Prabhakar
Kevin Raleigh
David Rambo
Nandini Rao
Karen Rea
Patricio Ricaud
Becky Rice
Suzanne Rice
Aliza Richardson
Jennie Rio
Collette Riopelle
Gregory Roberts
Matt Robesch
Tatiana Rodriguez

Kate Rogers
Rheese Romero
Iris Rosechild
Dolores Rossman
Josh Russell
Deborah Rustin
Dan Sakaue
Sophia Sansone
Liam Sarwas
Susana Sawrey
Alexandra Schaefer
Chuck Schafer
Dorothea Schelch
Isabelle Schlegel
Brady Schmitt
Cye Semrau
Wayne Severson
Sherry Shanabarger
Matt Shannon
Patrick Sheehan
Sarah Sheplock
Elia Sherman
Jessica Sills
Jenise Silva
Damon Sims
Alex Smith
Peggy Solan
Ziyue Song
Eric Sorlien
Marina Sosner
Nancy Standifer
Samantha Steinwinder
Kerry Streiff
Nancy Strom
Daniel Strommen
Gemma Sung
Hayley Sussman
Anna Swartz
Mindi Tambellini
Kirby Tebeje
Diane Tepfer
Mazohra Thami
Deepthi Thangaraj
Sophia Thomas
Vivienne Timmermann
Sharmaine Tramble
Alexandria Tsukanova
Caragh Tuch
Tatiana Turner
Meranda Tuttle
Kelly Ufford
Deborah Uno
Amanda Varney
Nick Vega
Jacqueline Volin
Andrew Volk
Jody Wahlgren
Janice Wall
Milanca Wang
Mackenzie Wardlow
Victoria Watts
Danny Weiner
Jinny Weintraub
Daniel Westmore
Aaron Wheeler
Christine Williams
Jaresiah Williams
Ruby Wishnietsky
Fredrika Witt
Michelle Xing
Danielle Xu
Patricia Yano
Yi Zhang
Marietta Zintak
Thank you again for making SIFF possible!