GiveBIG
Support SIFF during this one-day online giving campaign on May 8.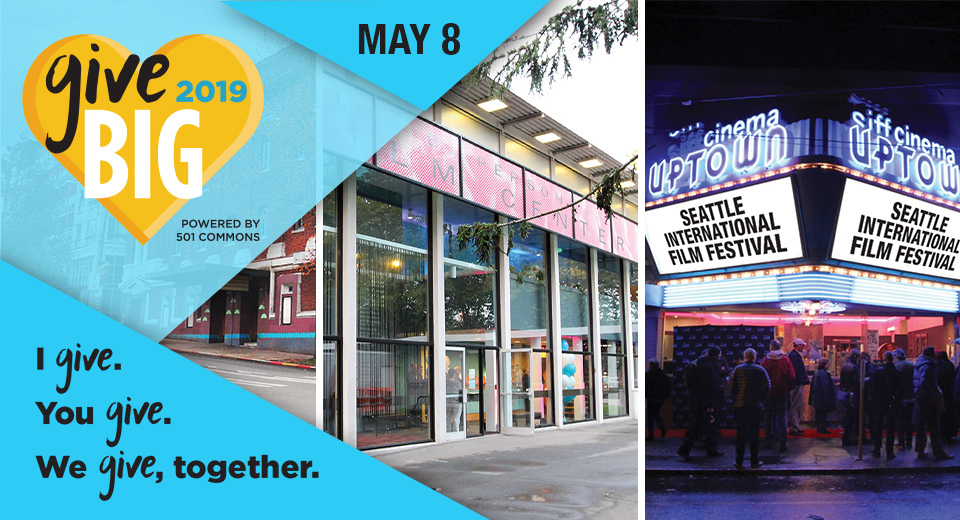 Save the date of May 8, 2019 for GiveBIG—a one-day online giving campaign presented by 501 Commons and Encore Media Group. GiveBIG's mission is to raise funds for local nonprofits across the state of Washington, and SIFF is a participating organization in this year's campaign.
This year's campaign is SIFF's best yet. You can GiveBIG and win BIG with your donation when early giving opens on April 23.
Check out the following dates and prize drawings to help you schedule your qualifying gift of:
Every $20 donated from April 23 - 30 is entered to win one (1) Cinematic 6-Pack to the 2019 Seattle International Film Festival.
Every $50 donated from May 1 - 8 is entered to win one (1) pair of tickets to SIFF's Closing Night Gala on June 9, 2019.
The first 90 donations of $100+ during the entire GiveBIG campaign will receive an invite to a Secret Screening at the SIFF Film Center on May 11, 2019.
Your donations directly support the day-to-day operations of the Seattle International Film Festival, SIFF Cinema, and SIFF Education, providing a space for sharing diverse, original stories, perspectives, and experiences from around the world.
Register and schedule today. Don't forget to challenge your friends, family, and others to support SIFF's mission of bringing extraordinary cinema to Seattle.
I give. You give. SIFF gives, together.