Tracy Rector and the Journey to cINeDIGENOUS
Saturday, April 10, 2021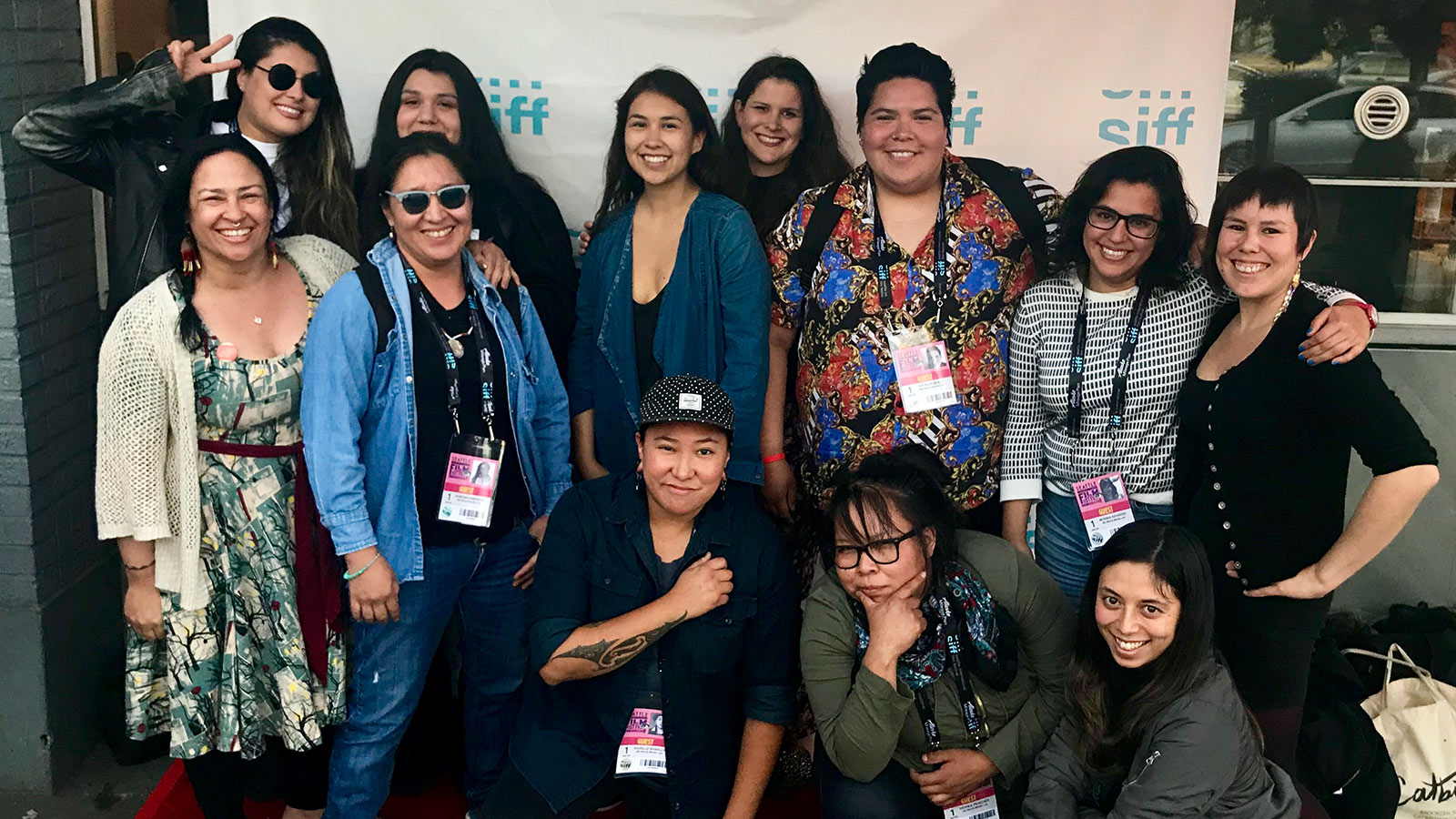 For 15 years Tracy Rector, a local BIPOC filmmaker, educator, arts curator, and activist, has expertly sculpted the Indigenous educational workshops and film presentations at the Seattle International Film Festival. Beginning in 2006, when Tracy connected with SIFF's Education Coordinator Liza Comtois to present the SuperFly Filmmaking Experience as part of the annual Festival programming, bringing 50 high school-aged students—largely from Indigenous communities—to Seattle to create four short films in 36 hours in a visionary collaborative partnership with local tribes. SuperFly mentors from across the Indigenous filmmaking community who shared their wisdom included Sterlin Harjo, Sierra Ornelas, Sydney Freeland, and Tracey Deer. Each year the completed films then world premiered in a special program at the Festival. After nine years, the SuperFly program developed into the 4th World Indigenous Media Lab, an evolution co-launched with the Sundance Institute's Native Filmmakers Lab and built over the years in collaboration with Big Sky Documentary Film Festival, Camden International Film Festival, ITVS, and Vision Maker Media. A cohort of early to mid-career Indigenous film fellows are selected annually to attend all three partner festivals to engage in career-building workshops, pitch forums, and festival networking among other unique events. The 4th World Media Lab is currently accepting applicants for the 2021-2022 edition.
Early on in our collaboration, Tracy Rector began recommending Indigenous film titles that she saw across the festival circuit and several years ago was officially recognized as a Festival programmer, curating SIFF's Indigenous features, short films, immersive media and experiential events. Recent highlights of Tracy's curatorial excellence can be seen in the free presentation of Rumble: The Indians Who Rocked the World at the Paramount Theatre, hosting Madonna Thunder Hawk and her daughter Marcy at the Festival with Warrior Women, presenting a 4th World Opening Night in 2019 at the Gates Foundation Discovery Center, and curating the film SG̲aawaay Ḵʹuuna with a special presentation by members of the Haida Heritage Foundation dance group.
In 2021, under a new year-round brand of cINeDIGENOUS, our relationship has expanded to embrace Tracy's extraordinary work as Managing Director of Storytelling at Nia Tero where she strives to uplift, amplify, and celebrate Indigenous stories, and make them accessible to Indigenous and non-Indigenous peoples here in Coast Salish territory and beyond. In collaboration with Nia Tero, SIFF is now presenting monthly virtual classes centering Indigenous topics and instructors that are accessible to all audiences and presented free to Indigenous communities. Visit our upcoming Classes to learn more and register for the cINeDIGENOUS offerings with Hinaleimoana Wong-Kalu and Emily Cohen Ibañez.
cINeDIGENOUS also embraces the programming at the 2021 Seattle International Film Festival, presenting five feature films and eleven short films directed by Indigenous filmmakers. These films can be viewed virtually but many will also be presented in special Drive-In screenings in Shelton, WA (April 9/10) and Oak Harbor, WA (April 16/17). Additionally, SIFF and Nia Tero are presenting a special Festival Forum event featuring leaders from the Sundance Institute's Indigenous Program in conversation about Kin Theory, an Indigenous media maker database currently in development. Rounding out the Festival content is a cINeDIGENOUS RoundTable conversation with the directors of Fruits of Labor and Waikiki.
Finally, the team at Nia Tero graciously created the Indigenous Land Acknowledgement in partnership with the Snoqualmie Tribe that begins every presentation at SIFF 2021 and will continue into SIFF's year-round programming. It is essential that we recognize the land we occupy and we encourage all people to support their local Indigenous communities financially, if able, and by centering Indigenous voices in the films, art, and wider cultural conversations you engage. Over the years, we have learned that taking action to be a good neighbor involves generosity, humility, and following the guidance of local tribal nations and Indigenous-led initiatives. SIFF is grateful for the many lessons gained from being in collaboration across such a diverse and global community of Indigenous creators. We look forward to many more years of being inspired by and uplifting these dynamic stories. Thank you for joining us on this journey!